Webmarketing
What hashtags to use on social media?
Our tips for finding relevant hashtags in 2022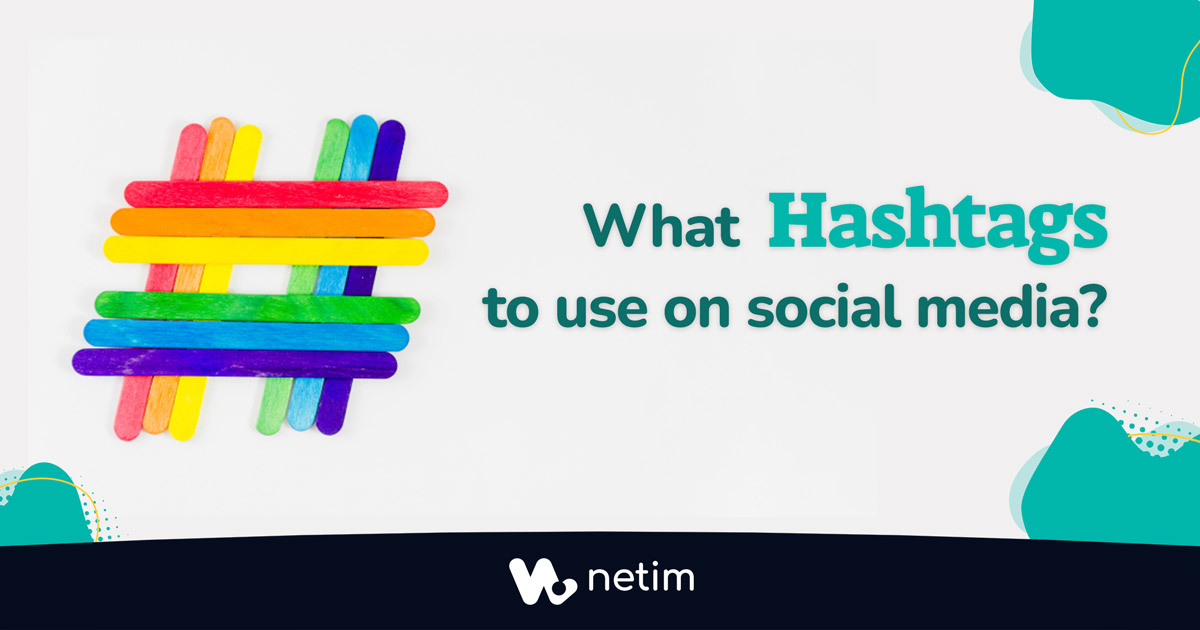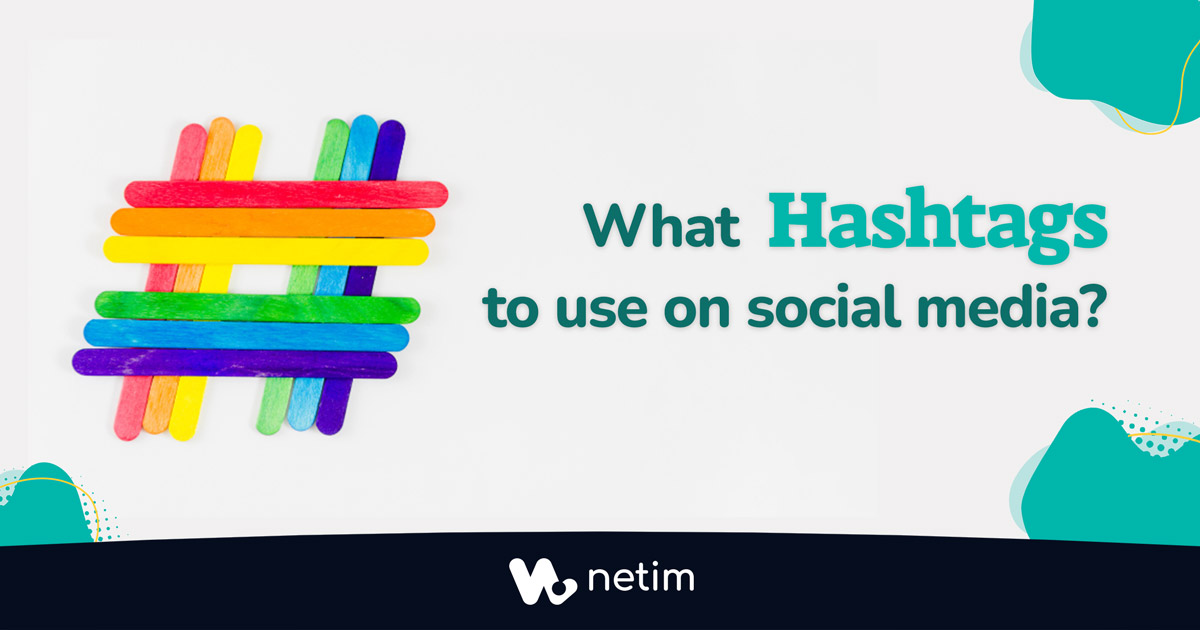 The hashtags… you see them everywhere and on every media nowadays, don't you? 😉 Well, it's normal. First appeared in 2007, the hashtag is very interesting to give visibility to a post. And of course with the number of internet users that are walking around on social media, it never hurts to use hashtags in a post that would allow a higher visibility.
Before we get to the heart of the matter, make sure you know the basic tips about social media. Once again, it's important to remember that the time and day of publication should be taken seriously to ensure that your messages have the greatest impact. Without paying attention, even the best hashtags will not be enough for you to have a good visibility on social networks in 2022!
Read article – Best time to post on social media
What is a hashtag?
If some of you are still wondering what a hashtag is, it's high time to know its definition in order to integrate it into your digital strategy as soon as possible!
A hashtag is a keyword or a series of words that will identify a specific topic or theme on social media. It is always preceded by a hash sign # with no space between it and the keyword, for example the hashtag #technology. As soon as a hash sign is added to a keyword or group of keywords on social media, a link is automatically created, making it possible to list all the content related to this same theme: we could even speak of a "clickable expression".
Much used by companies in their communication strategy, it is also appreciated and used by Internet users (in other words, customers and prospects). If marketers use it permanently, it is simply because the hashtag allows to give a greater visibility to the message posted on social media. Some of them also use hashtags not only in their publications but also to monitor their activity.
How to insert a hashtag in your post?
When typing your text on social media, you can insert hashtags related to your message. Here are some rules to follow to make your hashtag work:
Always start by typing hash sign #
No space between hash sign and the keyword
Special characters are not allowed in hashtags (/, !, %, +, €,…)
Only underscore (_) is allowed, it can be effective to separate two words for example and thus facilitate the reading
Capital letters are allowed in a hashtag, often placed at the beginning of each word to delimit them
Choosing the right type of hashtag for my post
There are different types of hashtags that you can use to build your digital strategy. But take the time to think about the types of hashtags that will have the most value in your posts!
A branded hashtag is, as the name suggests, created by a brand or company in order to promote it through communication campaigns. It can be the name of the company, a slogan, an event, the name of a product or the name of a campaign.
Unlike branded hashtags, the content hashtag directly highlights the content of your message rather than the brand itself. It could be the type of product or service you offer your customers, or the city, region or country where you do business, for example. But don't lose sight of your target's interests with hashtags that are too far removed from their search intentions!
These hashtags are the current trends on social media. It is easy on Twitter to find them in the "Trends for you" section, which is able to suggest hashtags that are relevant (or not… it's up to you to sort them out!) to the message you are about to post.
Note: Each hashtag used must have a link with the content of your post. Otherwise, people who read your post may be confused by your publication without any particular connection to the hashtag used.
In order to choose the hashtags best suited to your target and your customers, here are some tips to put in place to gain visibility over your competitors:
Doing specific keyword searches: In the search bar of each social media, type in a hashtag that relates to your post and analyse whether the results are consistent with the post you are writing. Do the same with synonyms and other broader terms to find the perfect hashtag.
Identify hashtags used by your competitors: To find inspiration, you can start by looking at the hashtags used by your competitors and adapt your strategy accordingly.
Integrate niche hashtags: For a message addressed to a very specific audience, there is nothing like niche hashtags that will actually allow a better rate of engagement.
Analyse the performance of each hashtag you use: Communicating with hashtags also involves testing. Analyse all the hashtags you use and determine from the results which ones work best for your audience.
Use the best number of hashtags: Beware of thinking about inserting hashtags in your posts is highly appreciated for a better visibility and a better rate of engagement, but limit yourself to the right number of hashtags per network (see below our recommendations).
Create your branded hashtag: As seen above, creating your own branded hashtag can help engage your audience with your post. It will differentiate you from the competition and in many cases give your post more uniqueness and character.
Think of the day of the week to post: Hashtags group publications according to the day of the week such as #MotivationMonday, #TransformationTuesday, #TBT (#ThrowBackThursday), #FridayFeeling, … Use them wisely!
Instagram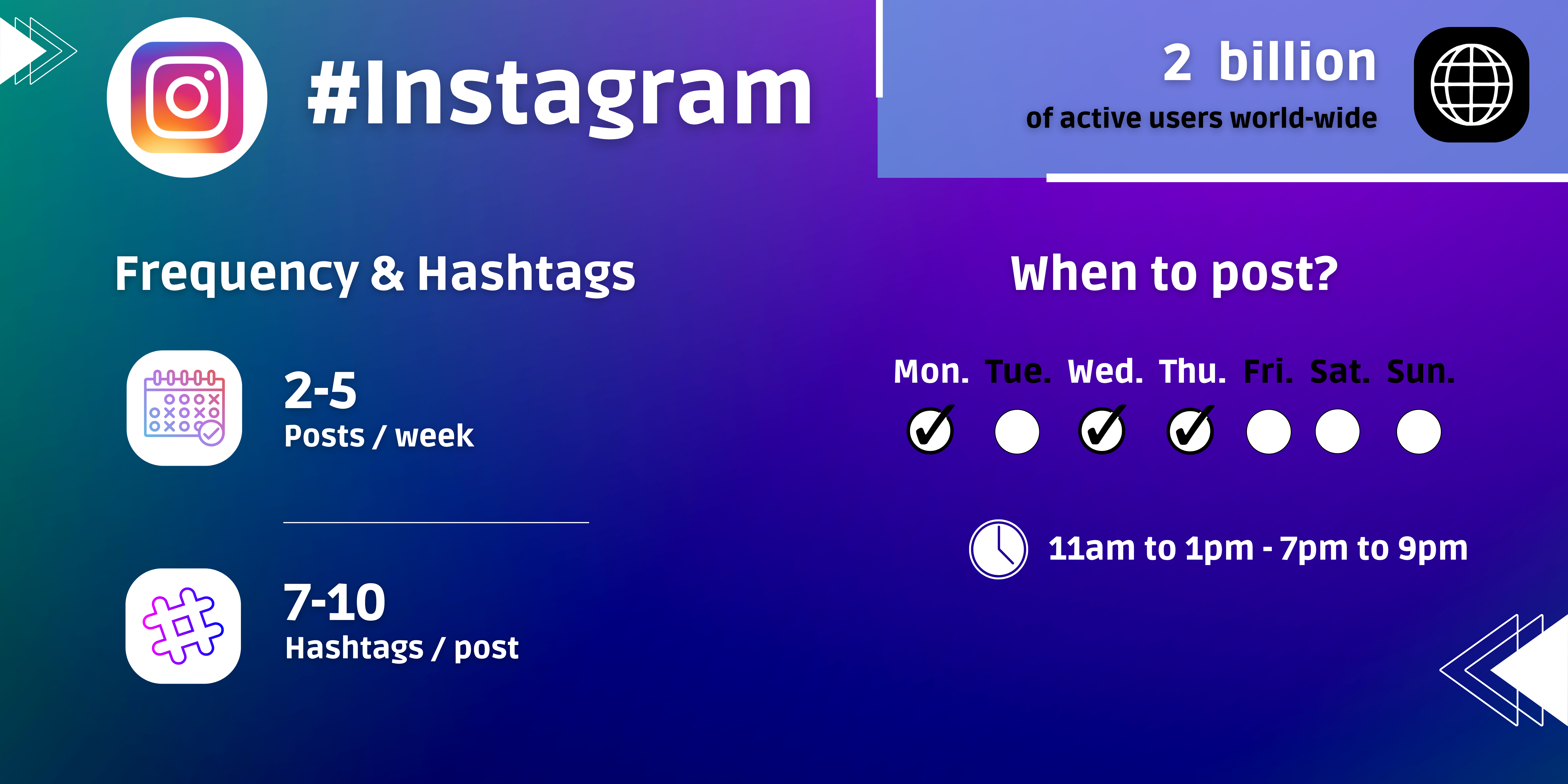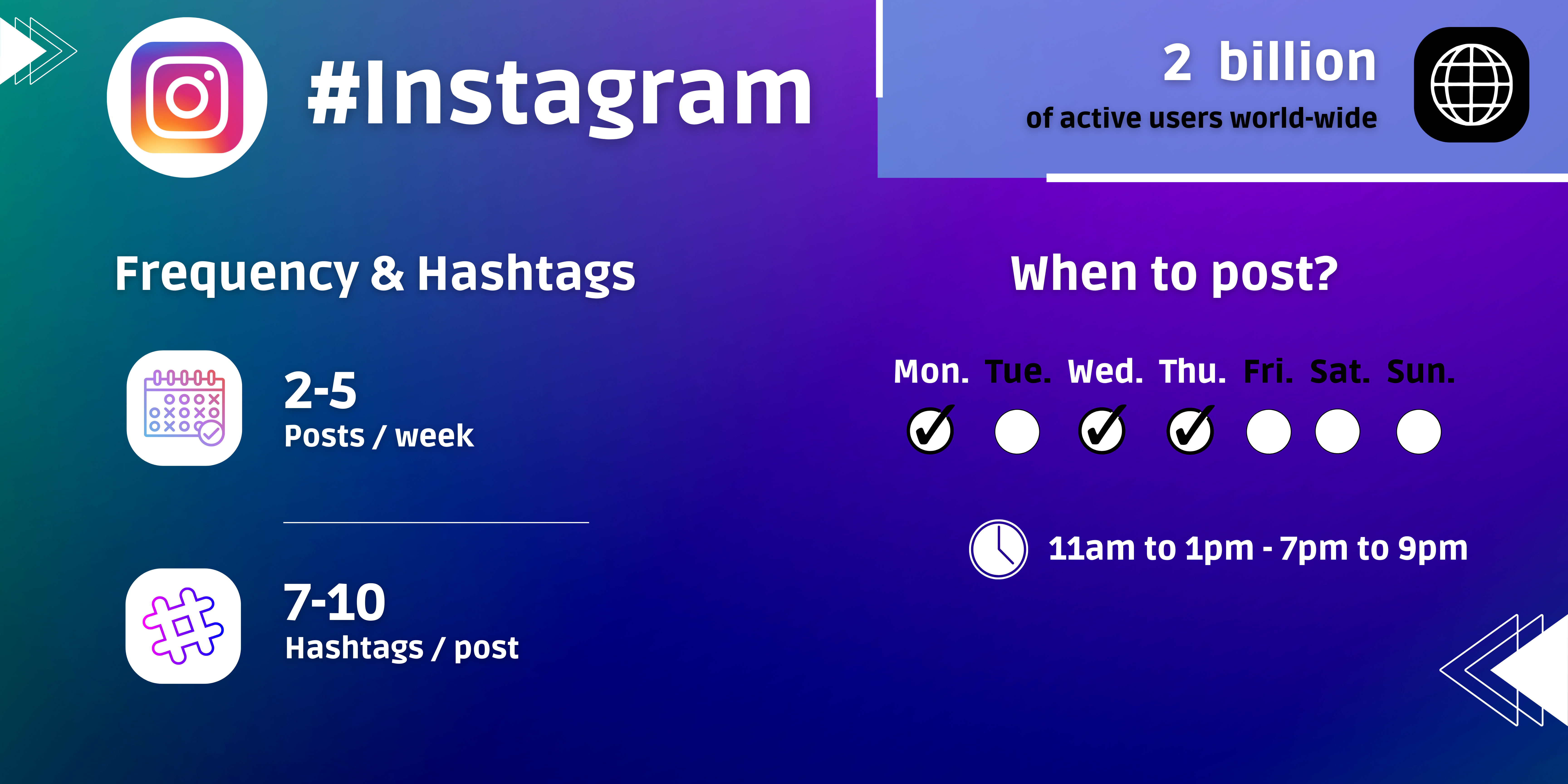 A social network based on photo and video sharing, Instagram now has no less than 2 billion active users worldwide. Even though the number of hashtags allowed per post on Instagram is 30, it is not advisable to overuse them. To optimise your engagement rate, it is better to insert between 7 and 10. As for the rhythm of your publications, you can consider between 2 and 5 per week.
Note: The hashtag seems to be losing its value due to the numerous updates to the application. Indeed, the algorithm now limits the reach of publications containing hashtags that are too popular. Prefer slightly less popular hashtags and focus on those that are most followed by your target and your customers.
Facebook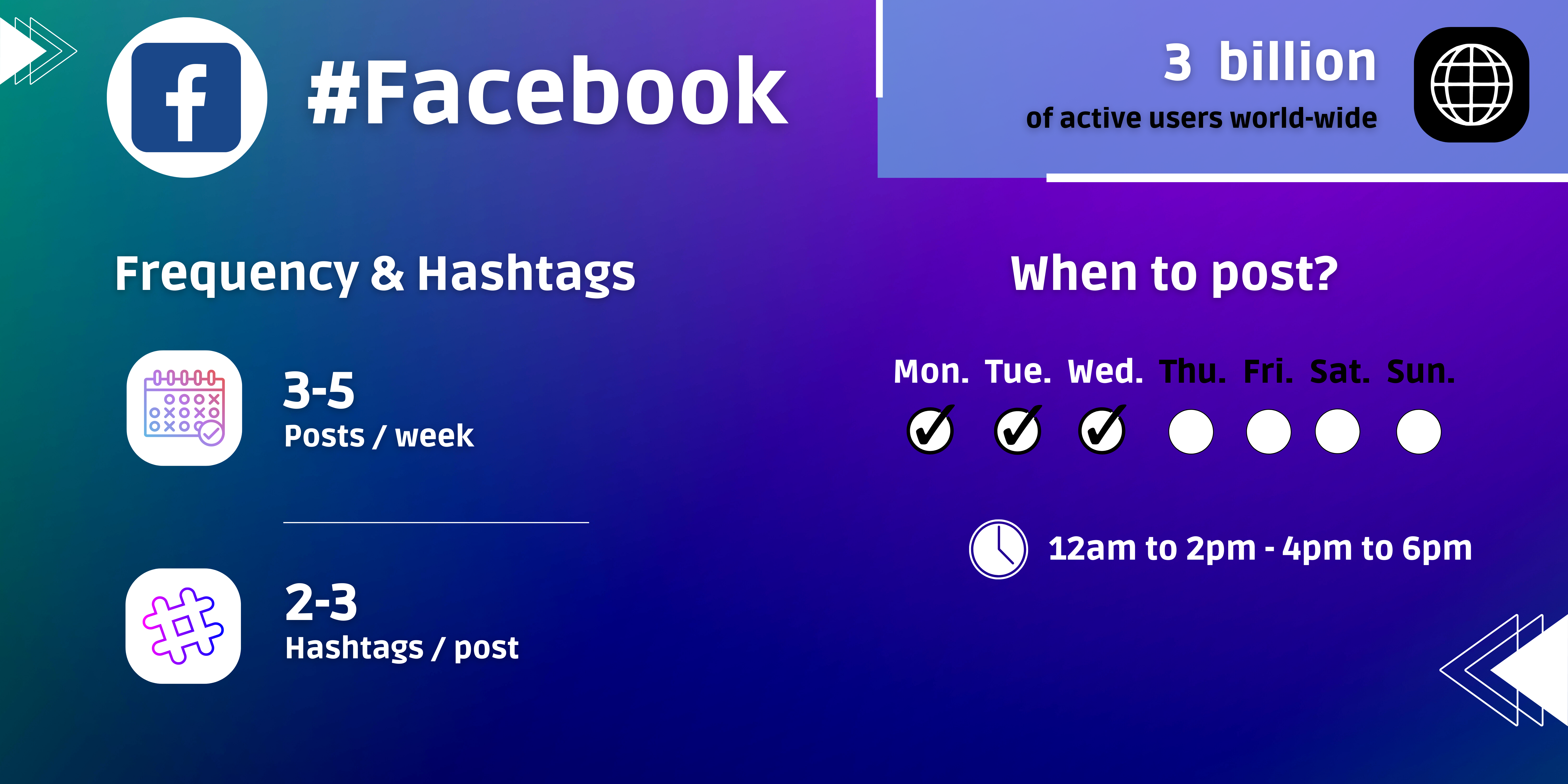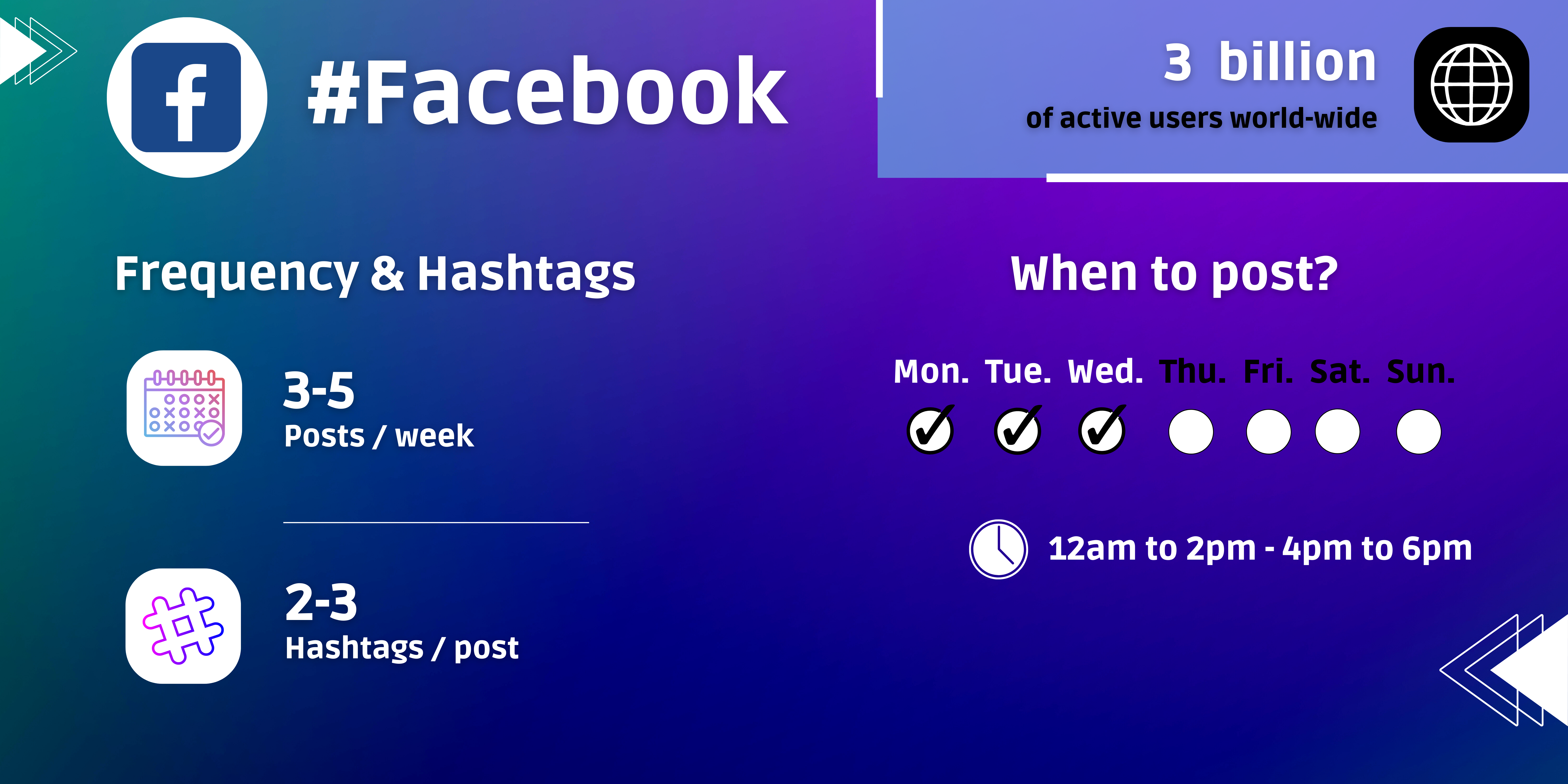 As for Facebook, opt for hashtags related to a place, an event or a brand that will have more impact on this network. It is also preferable to use between 2 and 3 hashtags on Facebook for a better reach of your publications. Finally, posting 3 to 5 times a week on Facebook is also recommended to carry your posts and the hashtags they contain!
Twitter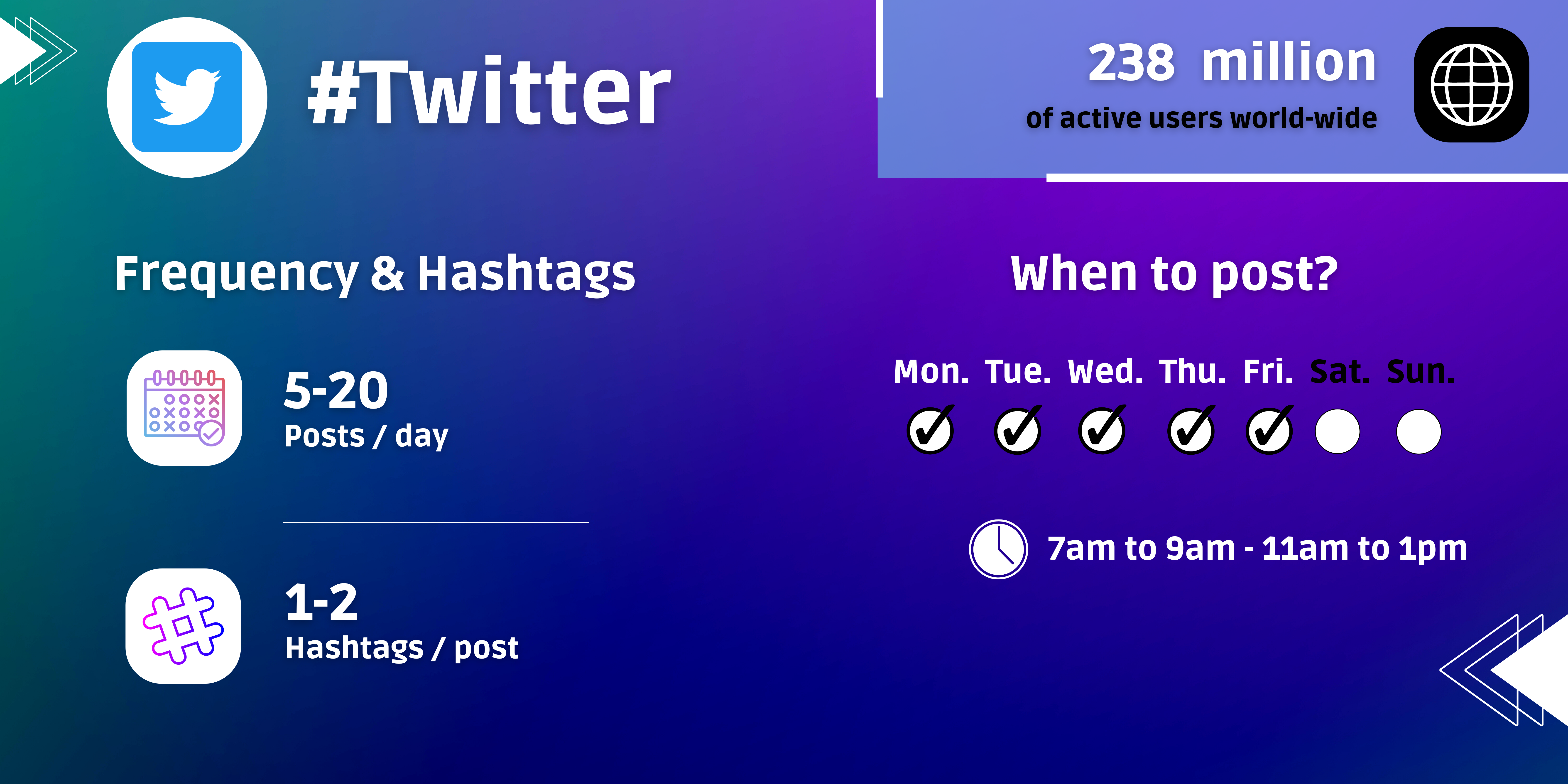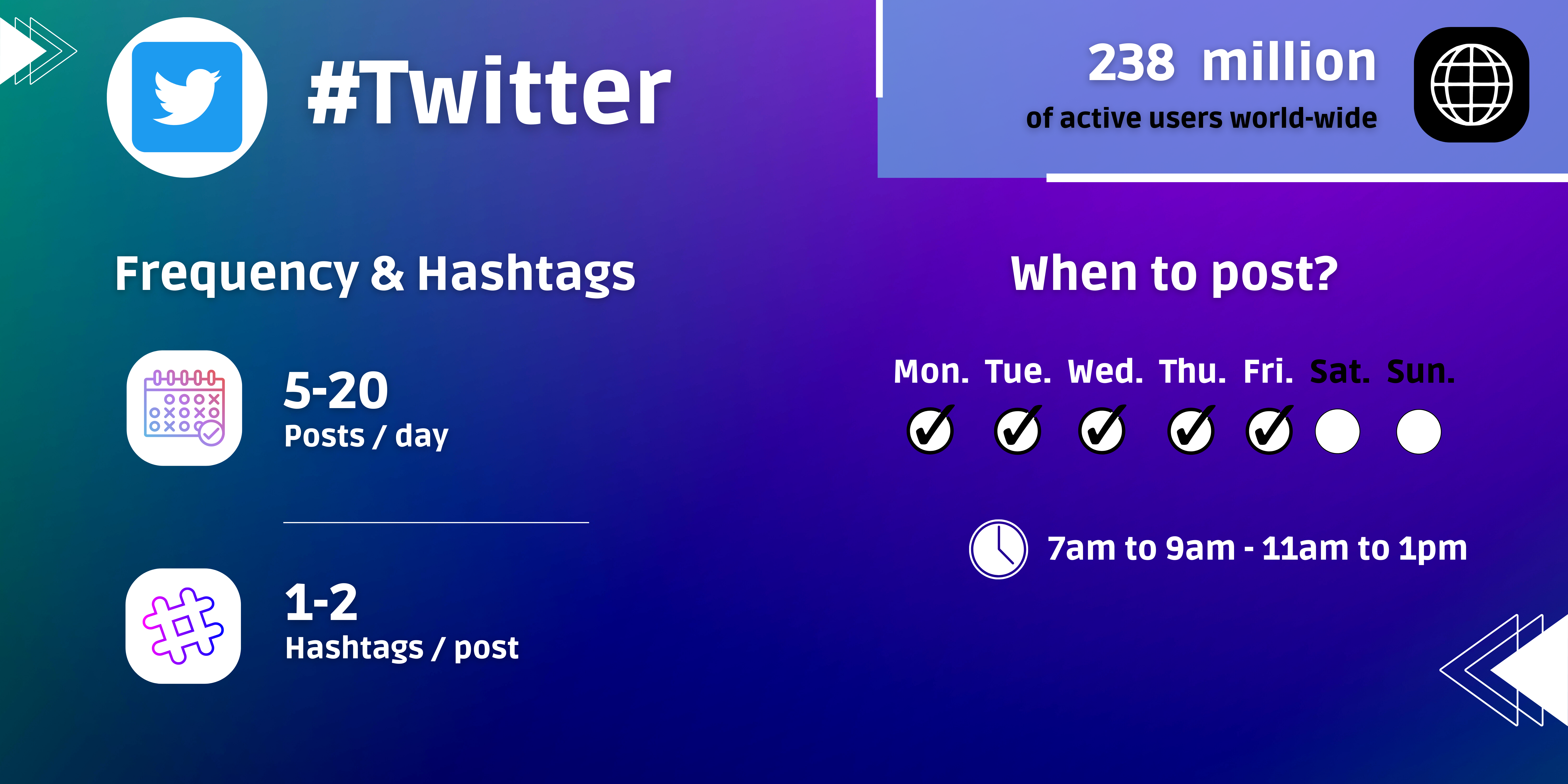 Twitter, or the network that gave birth to the hashtag, is now inseparable from the hash sign. The hashtag therefore has particular power on Twitter and can really boost your publications: according to a study published by Hubspot, tweets with hashtags are 33% more likely to be retweeted than those without.
Regarding the recommended frequency of posts, there will be no more impressive quantity than on Twitter: posting between 5 and 20 tweets per day would be the best way to stay on top of your followers' feed. What about hashtags? Don't put more than 1 or 2 per tweet.
LinkedIn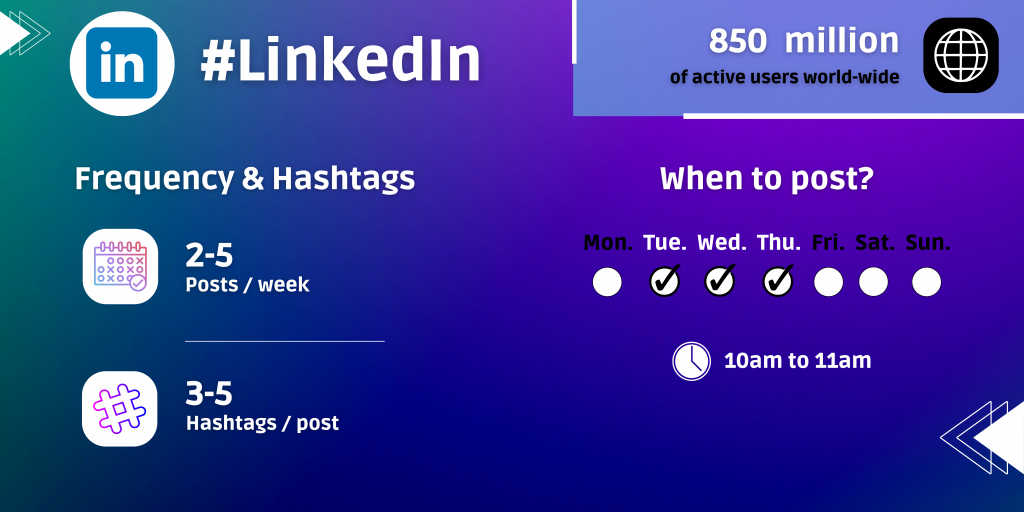 As a platform for professional use, content shared on LinkedIn is unlikely to be as entertaining as on other social media, and that's the point… Even so, hashtags are still relevant on LinkedIn as long as they are completely formal.
For the rhythm, start with an average of 2 to 5 publications per week to be sure not to be forgotten by your followers. For each post, add 3 to 5 hashtags related to your message.
Did you know?
If you manage a LinkedIn page, did you know that you can follow a maximum of 3 hashtags and share your own posts on the pages of those same hashtags? 😉
Tiktok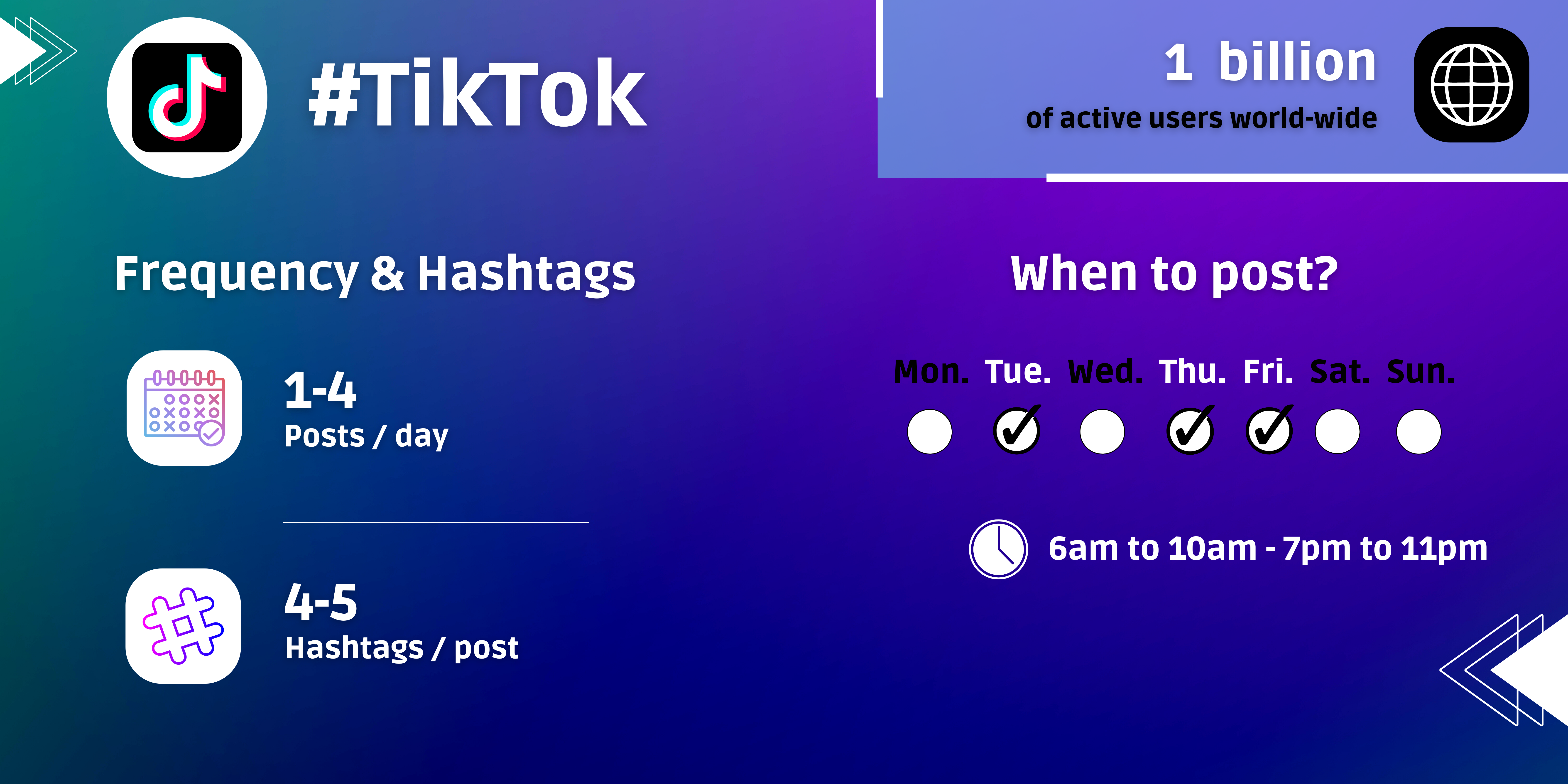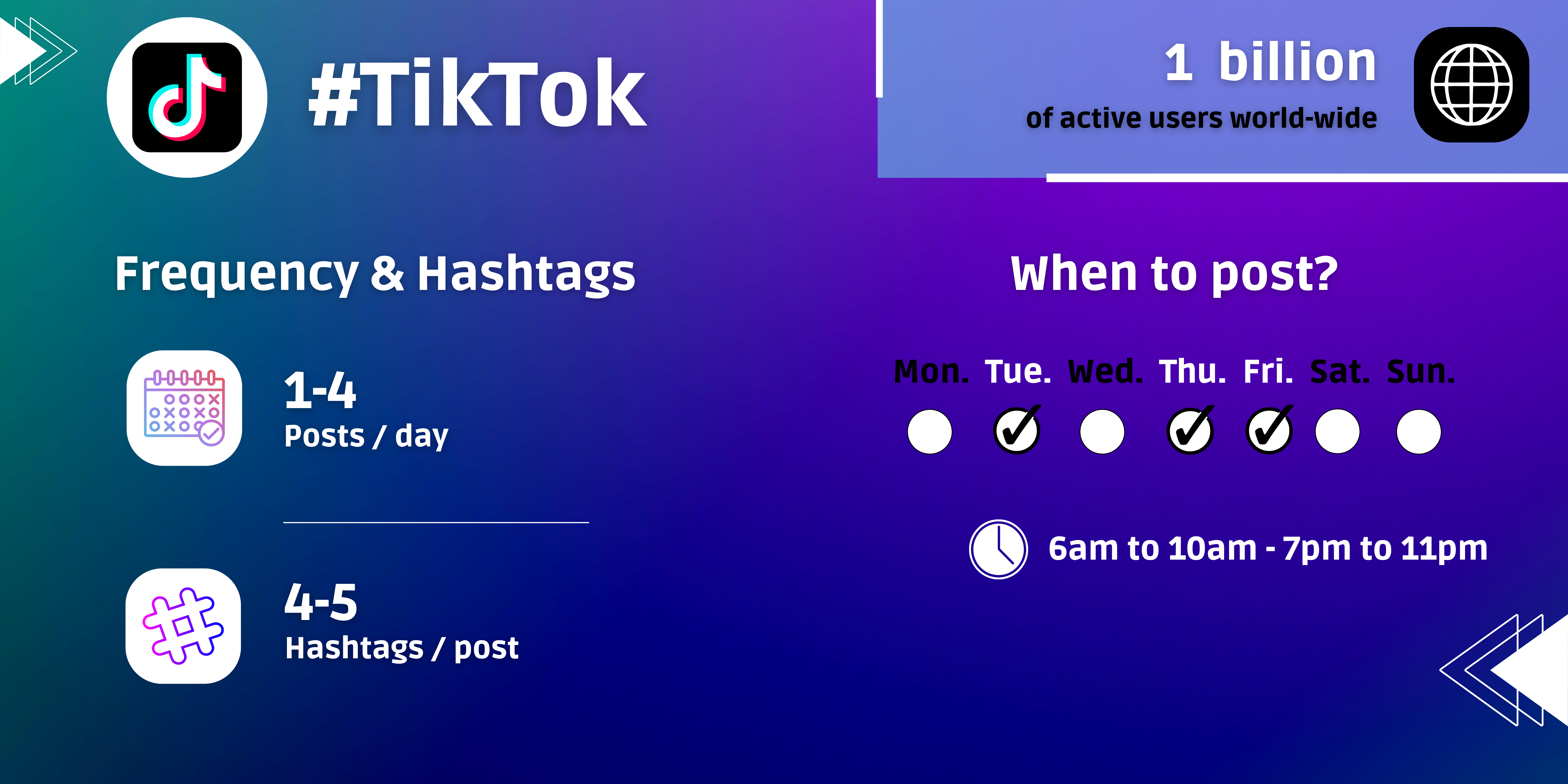 Finally, TikTok, which is a hit with generation Z with over a billion users, has become the trendy platform in 2022. In terms of numbers, it is recommended to post between 1 to 4 times a day for maximum visibility, with a description of 4 to 5 hashtags.
Hashtags on TikTok have a visibility that can be enormous when they are popular: 35% of users participate in the various challenges of the application by posting their videos under the same hashtags.
If your imagination or your competitive intelligence is not enough to find your hashtags, don't panic. Many tools, free or paid, allow you to generate hashtags around one or several keywords. We are happy to present you some free solutions accessible in 1 click!
Talkwalker: compare the performance of your keywords!
Talkwalker is a free tool with fewer features than the paid version, but it is still very effective! It will allow you to measure the effectiveness of a hashtag by taking into account the number of results found, the engagement observed, the feeling it gives off among Internet users but also its potential reach. All this while having the choice to compare several keywords between them 😉
You can also set up your search by media type, country, language related to the publication you are preparing and more.
Enter your keyword in the search bar and RiteTag will work for you! You will then get the latest hashtags used on Twitter and Instagram with valuable data. It can be the number of tweets per hour the hashtag appeared, the number of retweets and the number of impressions per hour.
Tagsfinder: target your searches by country
Easy to use, first select the country for which you want to analyse your hashtags and enter your keyword. TagsFinder then displays a list of hashtags, so all you have to do is choose the most relevant ones!
This last tool is different from all the others seen before in the sense that it will allow you to generate hashtags from an image. Marketing Hub Hashtag generator is therefore very useful on Instagram to enrich your publications.
To get your hashtags, here is how to proceed:
Upload the picture of your choice
You get a list of keywords of varying length depending on the elements of the image analysed by the site
Select the keywords you think are most relevant by ticking the corresponding boxes
Your hashtags are displayed on the right of the keyword list!
And to make the link with this article, what could be better than to create a domain name that would group all your contact information (LinkedIn, Instagram, Facebook, Twitter accounts,…)?
It is easy today to create this type of domain, especially through WordPress with Myself or WP Indigo themes 😊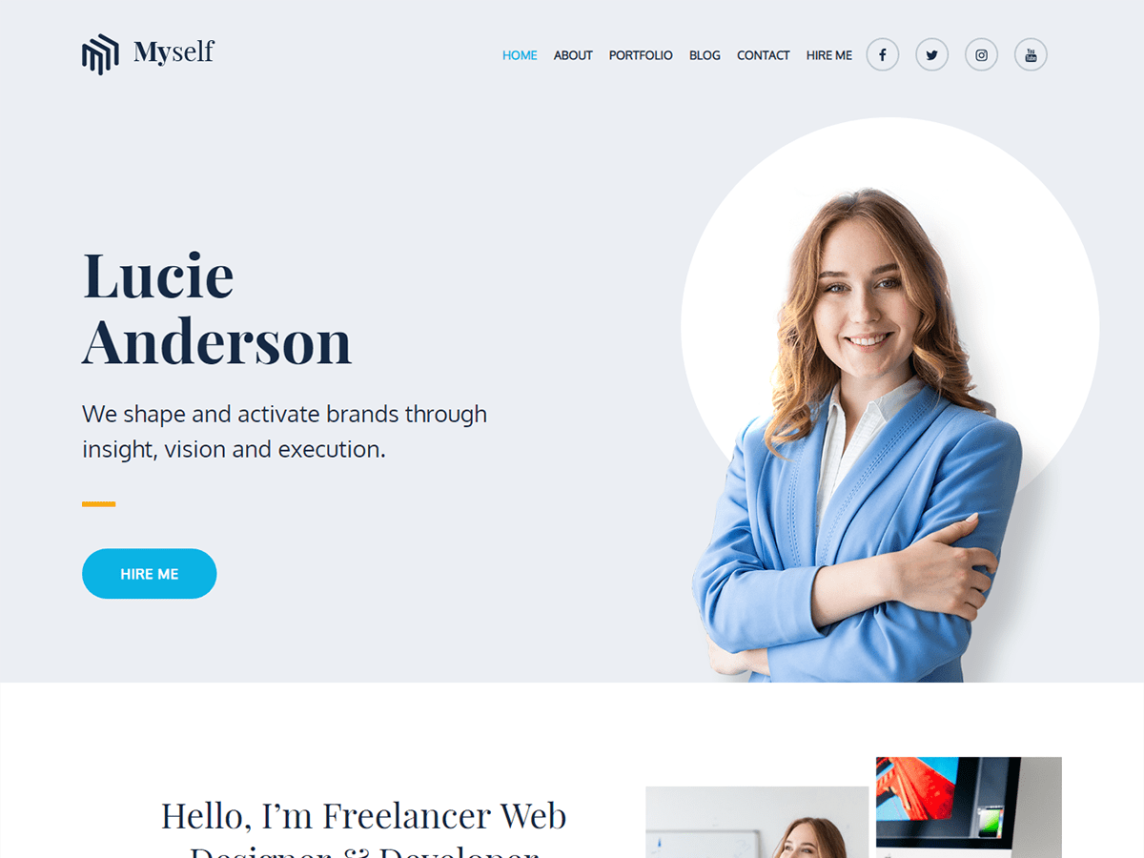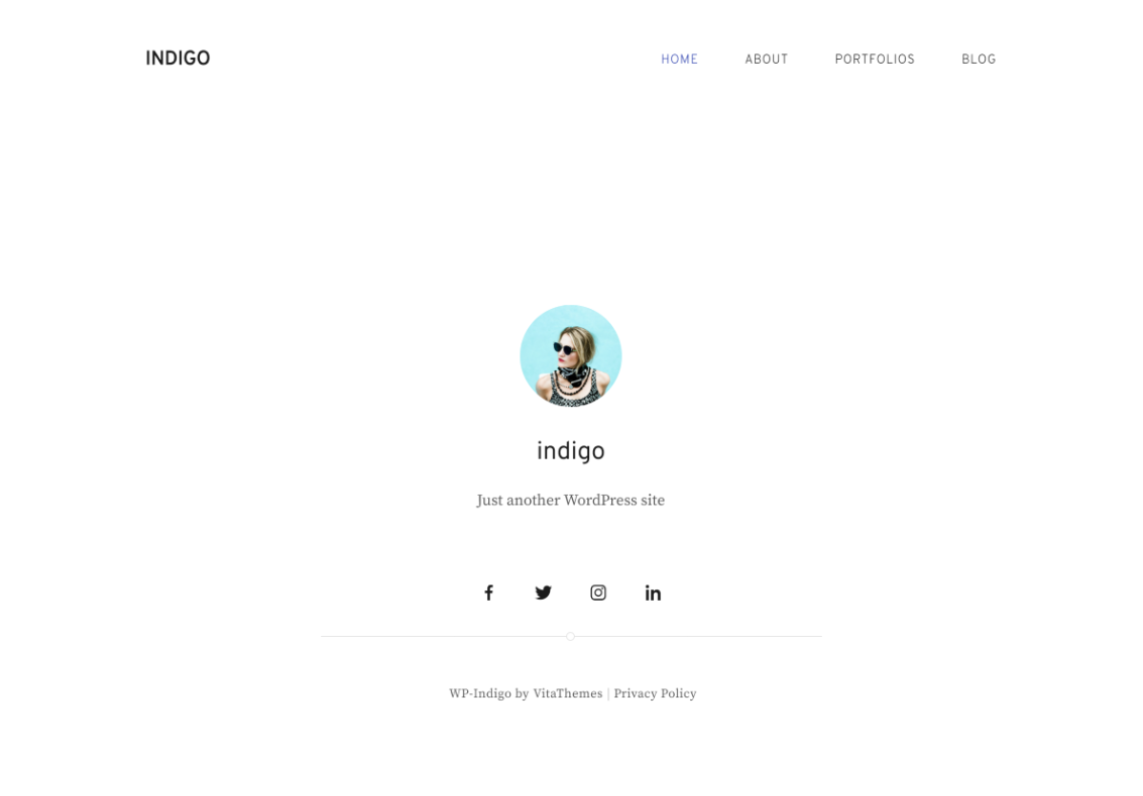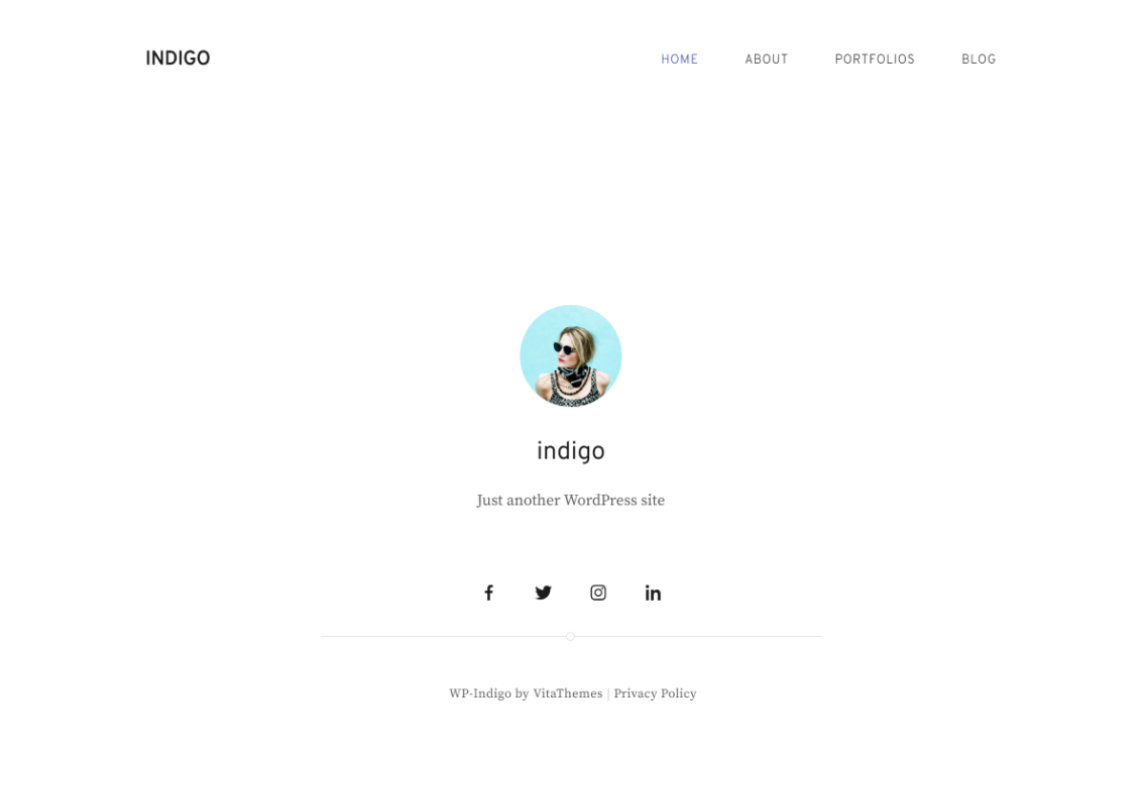 Do you want to host your website? 😊
Netim offers several different hosting plans, all of which include a minimum email address, unlimited redirections and also a global Anycast DNS Network.