Webmarketing
Understanding mobile browsing trends in 2022
Search results, indexing, adaptive content, responsive design: get your website optimised for mobile!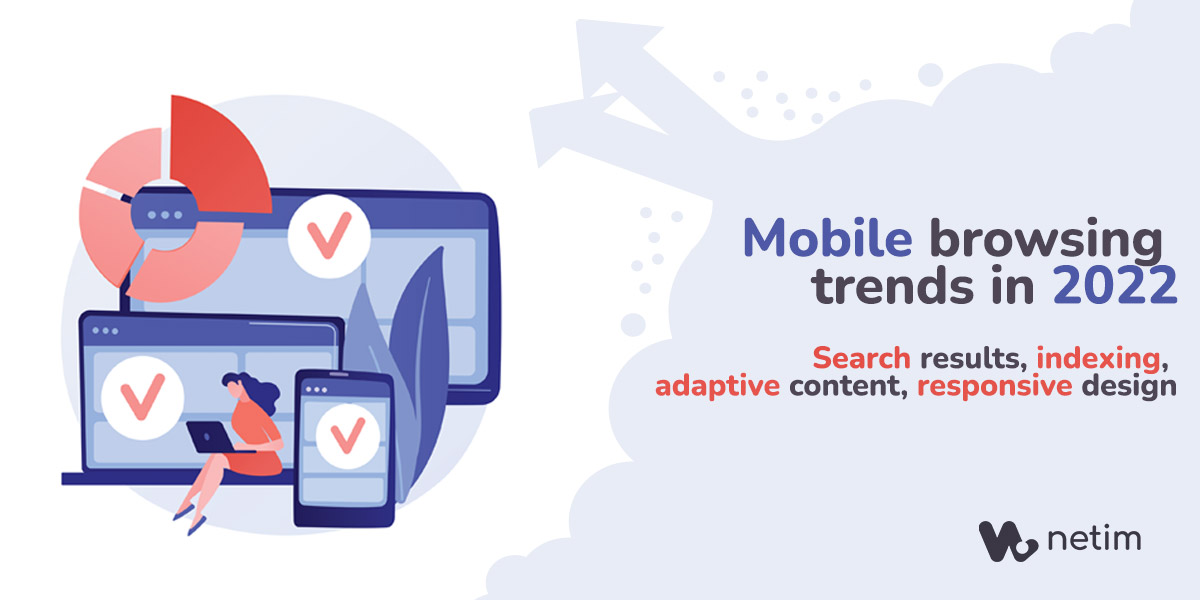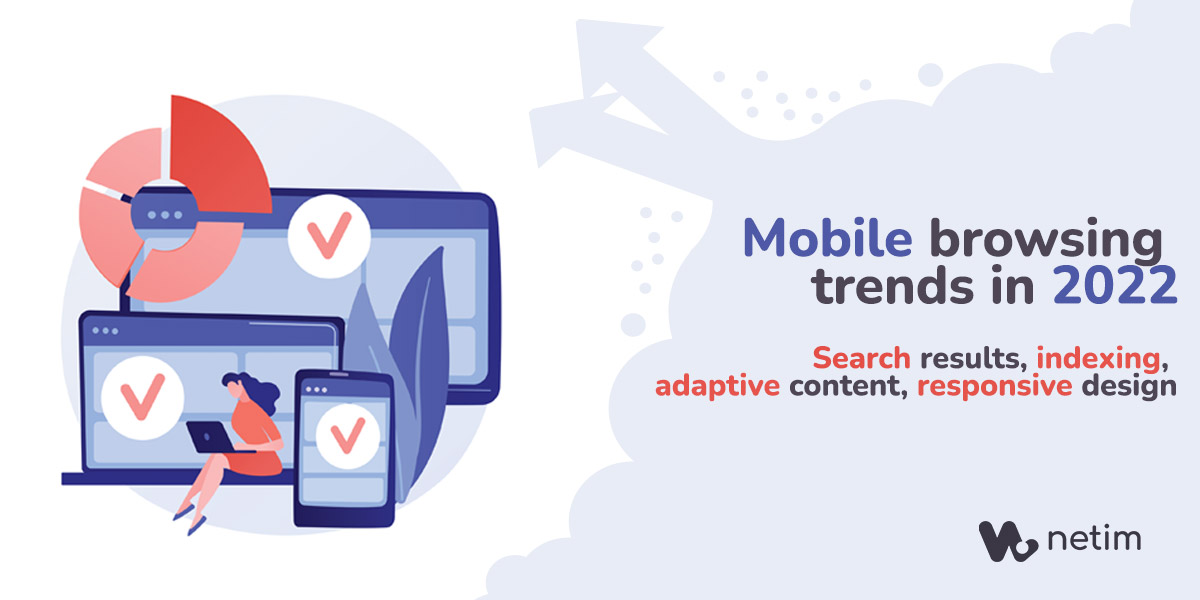 The proportion of mobile research is increasing year by year. Nowadays, only a few companies do not provide a responsive version of their website. Most CMS (Content Management System) include a responsive version which is in fact, just an adjustment of the desktop one.
However, in order to make the most out of this traffic, it is necessary to look beyond. This means going beyond the purely ergonomic aspect and understanding user behaviour and how search engines rank websites for mobile versions.
Understanding the differences in user behaviour
In 2021, a study conducted by Semrush analysed the changes in Internet user behaviour. Indeed, an increase in the number of searches (both on mobile and desktop) was noted, certainly explained by the pandemic and the resulting restrictions. There was also considerable growth in mobile market share.
By 2021, mobile browsing represented 66% of global searches. Having said that, it became important to understand what characterises these browsing patterns, so that sites could meet them.
Two points were made:
The average time spent on mobile was less than on desktop (about 40% less)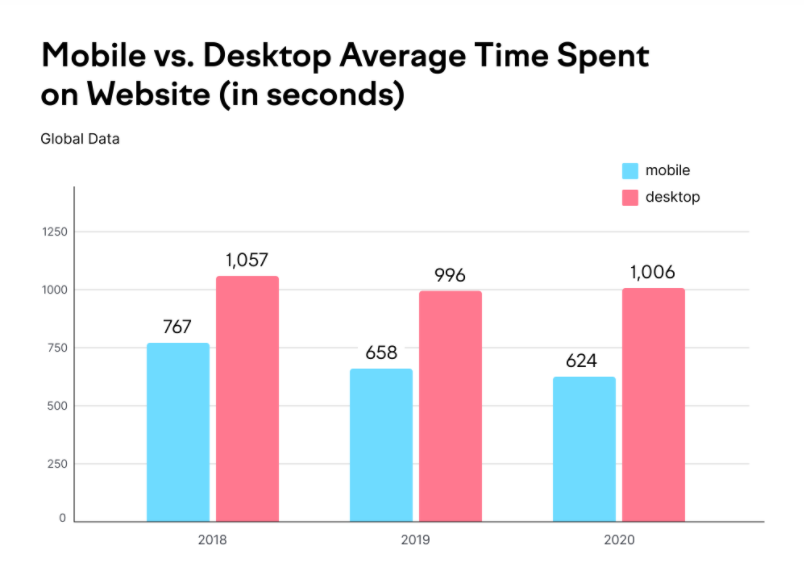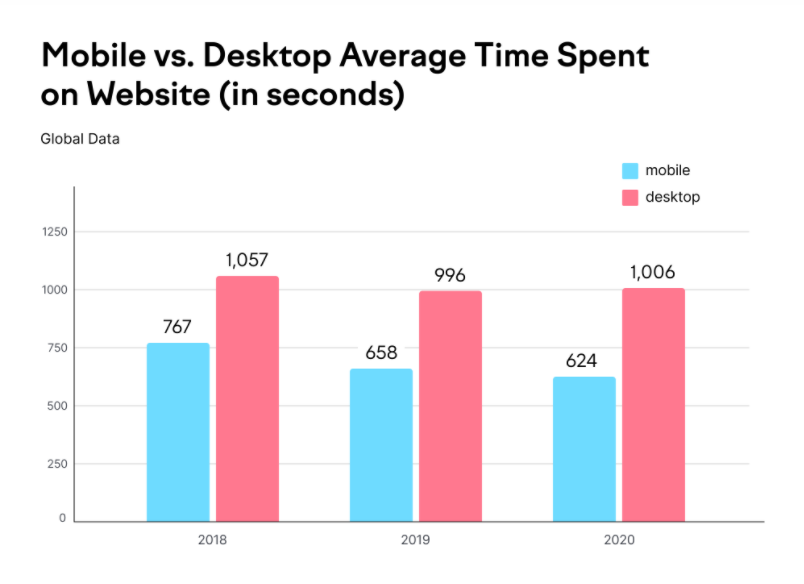 Bounce rate was higher overall, both on mobile and desktop, with a significant increase on desktop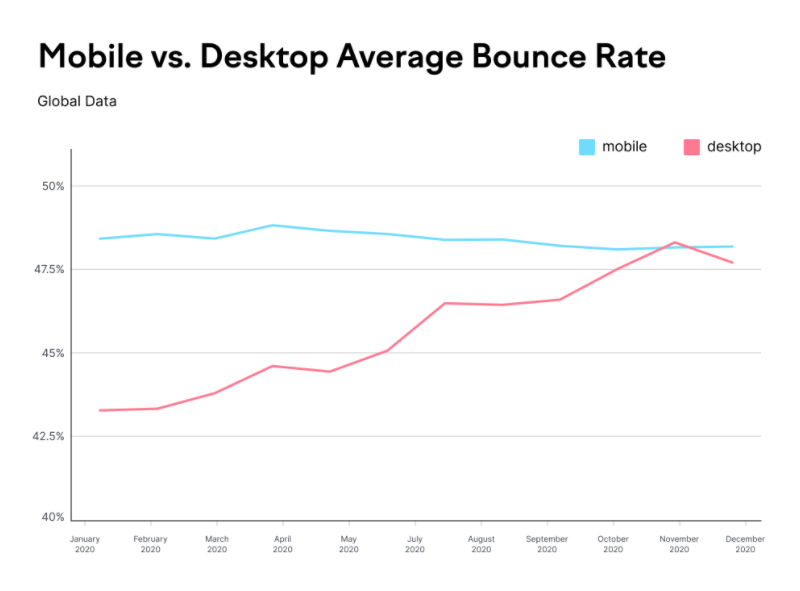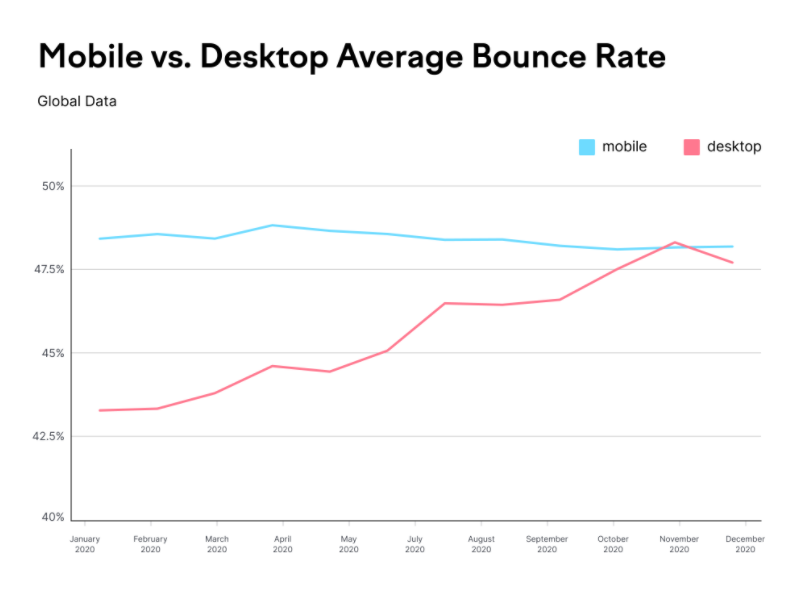 What can we infer from this data?
Users are becoming more and more difficult to reach, especially on desktop, where there has been a sharp bounce rate increase. The available attention span is decreasing. It is therefore essential to find solutions to keep users engaged, both on mobile and desktop.
Mobile-first, or the mobile indexing before desktop
Based on the data concerning search traffic, user behaviour and SERP (Search Engine Result Page) rankings, the search engines have come to the conclusion that mobile must prevail over desktop when it comes to indexation.
What does this actually mean?
First, the robots of a search engine browse, analyse and sort the pages of a site: this is called "crawling". Once this operation has been completed, the site is indexed (or not) and then ranked in the search results. This step is essential for the visibility of your site. Without indexing, your site will be invisible to Internet users.
Previously, the indexation was based on the desktop version. In other words, the robots crawled the desktop version and not the mobile version. Today, it is the other way around.
What is the difference? If your mobile site is an adapted version of your desktop site (same content, same structured data, same metadata), you may not notice any significant changes. However, if your mobile site is a downsized version of your desktop site, you may see a drop in traffic.
The challenge for many sites is to maintain their search engine rankings on mobile. Here are some key figures and ways to improve to stay at the top of the results.
Mobile VS Desktop: what are the differences in SERP (Search Engine Result Page) rankings?
Indeed, the main challenge for sites is to maintain their rankings in search engines (SERP), on mobile and desktop, in order to guarantee a certain volume of traffic. Moreover, losing rankings on mobile can end up being worse than on desktop. Indeed, the size of the screen reduces the visible space for the user.
Considering these objectives, on average only 11% of sites managed to maintain their ranking on mobile. Why is this?
User behaviour is different on mobile and desktop, as we explained earlier. By neglecting the impact of semantics dedicated to mobile searches, some sites lost traffic.
Indeed, several trends have been identified in mobile browsing, including the integration of location-specific terminology within keywords.
For example, if I'm looking to buy a pair of glasses while browsing on my phone, I'm likely to enter the name of a city or even a neighbourhood. I may be on the move and need to find an optician nearby.
On the other hand, if I do this search on my computer, my approach will certainly be more informational.
Two points stand out from this example:
It will be crucial to optimise your ranking in mobile search engines to include a location element on the keywords you want to rank for.
Mobile users are closer to conversion (transactional users) than desktop users, who are more informational.
Thus, the conversion power of a mobile user will certainly be higher than that of a desktop user: a true chance to get qualified traffic.
The difference between indexing and usability: adaptive content and responsive design
There is indeed a major difference between indexing and usability. As explained earlier, indexing is the fact that a page is crawled by a robot, understood and placed in its index, whereas usability is about the user experience.
Although the mobile and desktop versions must be identical for successful indexing (according to Google's recommendations), there is no obligation to keep the same format. This is where smart content comes in, a process that aims to offer a more qualified experience to web users.
In this sense, and thanks to the analysis of user typologies, it is possible to decide to display specific content, depending on a location for example. In this way, the pages do not appear overloaded visually and the user experience is not compromised. All content is always present and indexed.
Responsive design is part of this logic of adjustment. It allows websites to change widths according to the devices used.