Webmarketing
The importance of having a blog for SEO
Find out how to optimise your blog articles for SEO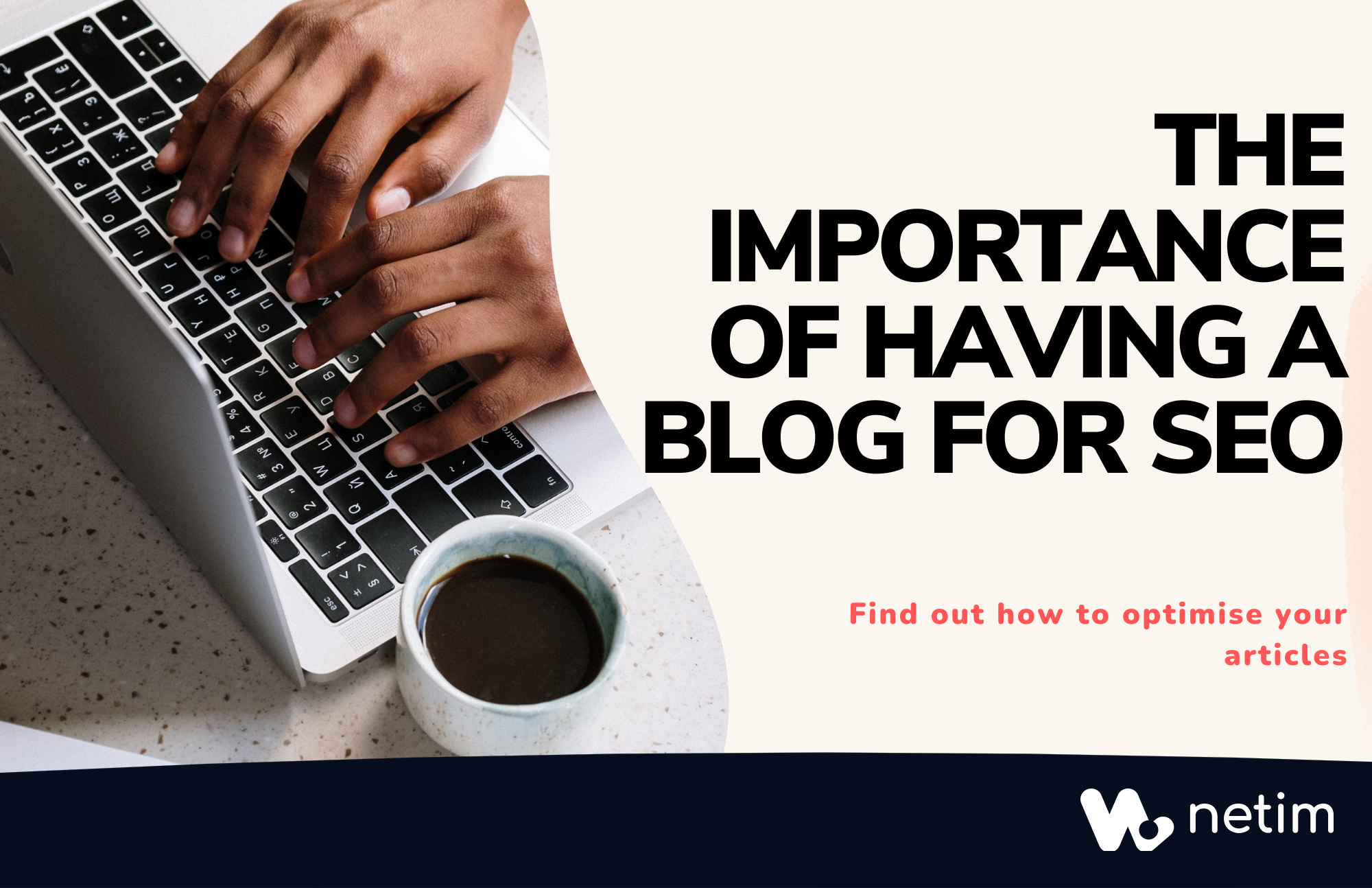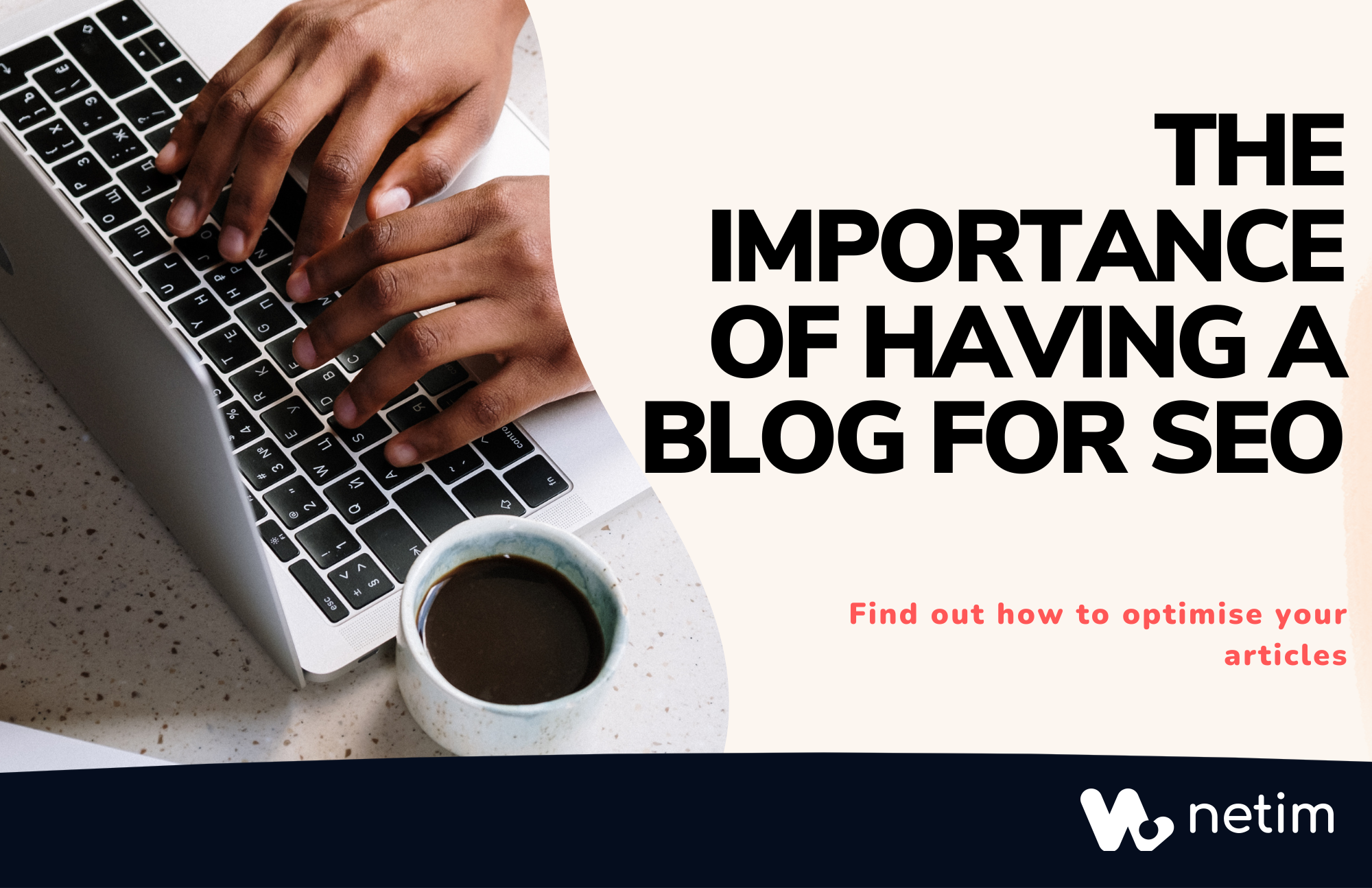 What is the difference between a website and a blog?
Officially, there is no difference since a blog is still a website. It is therefore an abuse of language. 
If we want to differentiate the two, then the site could be either an e-commerce site where we sell products and services or a showcase site that would serve to convert Internet users, whereas the blog would be more dedicated to communication, to content via dated articles, published regularly and sorted in chronological order and/or by theme.
A few years ago, blogging was more for bloggers. But today, you can sell services, products, travel on your website and still have a blog. It will allow you to create guides, talk about the latest news in your sector, inform your customers and create a wider community!
Blog and SEO
What can you gain from a blog in terms of SEO?
Working on the long tail
Having a blog allows you to tackle search terms called the "long tail". These are the many, many lesser searched, more specific but precise keywords that, when put together, can bring you a lot of extra traffic.
The advantage is that there is very little competition on these queries and therefore more chance for you to position yourself on the first page!
To help you find these search terms, there are many tools such as Semrush, AHref, Brightedge, Answer the public…
Expand its audience
If there are topics that cannot be covered on your main site, they will surely have their place on your blog.
You will be able to cover more topics of interest to your community, but also attract new users. 
You will be able to diversify the formats between guides, tutorials, images, videos, infographics, etc.
And since common sense is the order of the day with SEO, you should obviously not stray too far from your sector, let's not talk about hiking in the wilderness and astrology on a site dedicated to cryptocurrency for example. Firstly because it is not the same target and secondly because the confidence of your community may take a hit if you treat all the topics that come to mind.
Optimise the internal linking
Internal linking is an important element in SEO, it allows to bring juice, in other words popularity and traffic to certain pages of your site.
For example, if you have no links to your business page, then it will be considered orphaned (meaning that neither users nor search engine spiders can access it). Also, if this page receives only one link, Google will consider it unimportant and indexing will be more difficult.
These linked pages must of course make sense and remain within the same theme. Let's say you publish a comparison of 2 products A and B, you could add a "call to action" linking to the pages of products A and B and allowing you to place an order. These two links make sense, help readers and add juice to your product pages. Of course, your comparative article must also have a certain popularity to transmit it to your product pages.
Demonstrate your expertise
Prove your expertise in your sector through high value-added content. It will build trust and engagement with your company.
Strengthening your EAT (Expertise, Authoritativeness, Trustworthiness) will then send the right signals to search engines.
What are backlinks? 
Backlinks are inbound links, i.e. links that point to your website from another website. They not only bring new visitors to your website, but also improve its organic search (SEO).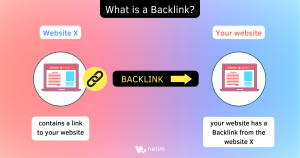 In addition, quality content will help you get inbound links naturally, from websites or social media. Even if the links from the networks are "nofollow" (not followed by Google), they can bring you traffic.
You can relay your articles yourself to give them more visibility.
How to write an SEO optimised blog article?
Publishing content frequently is good, but it's even better if it's optimised for SEO. Here are some criteria to take into account to improve your positions:
Useful and relevant content
The first rule is of course to make quality content. Google's bots are getting smarter and better at understanding content. Recently, Google launched a new algorithm, called "Helpful Content Update". It will detect content that has been created for search engines and not to help users. 
So write your articles primarily for your readers, not for robots!
Also make sure that your syntax and spelling are impeccable.
Complete articles
Even though Google is keen on content, there is no ideal word count for your article as each topic is different and can be covered in many ways! The aim is not to make long sentences to gain word count, but it is still important to treat your topics as a whole and in depth. 
The aim is to provide your visitors with something, and they should find answers by reading your article. Not too short, not too long, readable content and you're done!
Optimise the title tag and meta description

The "title tag" (in the red box) and the "meta description" (in the green box) are the elements that we see in the search results. They are taken into account by the indexing robots of search engines such as Google to understand the content of your page and thus detect the keywords that refer to it. 
These are therefore elements to be cherished to optimise your natural referencing, but not only! They must also be attractive and relevant to encourage Internet users to click on your link and not on the competitor's…

Hn tags are used by robots to understand the structure of your page, they are often associated with the titles and subtitles of the page. 
There should be one H1 tag per page, which is the title of the article, followed by H2, H3, H4 and H5, see example below.
As with the title tag, it is interesting to insert keywords (always sparingly).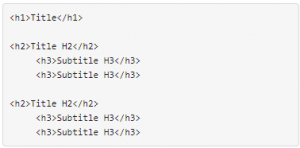 Visuals with Alt attributes
When you add visuals to your articles, it is essential to fill in the "ALT attributes". These attributes correspond to the alternative text of an image or a visual and allow Google to detect the keywords that are filled in. If the right keywords are filled in, you have a good chance of having your content indexed on Google image.
A variety of formats is important to engage your readers. Create infographics to summarise what you are saying, add a video of you speaking or a video summarising what you are saying.
So don't forget to fill in the Alt attributes on the visuals to describe the image, this attribute is also useful from a UX and accessibility point of view.
Structured data and Open Graph
This is micro-data to be inserted in the HTML code of a page, generally using the standardised Schema.org format, which is easier and preferred by Google. This data allows search engines to understand the content or structure of a page.
With this data, you can see additional information in the SERP (Search Engine Results Page), such as company information, FAQs, breadcrumb, etc.
It is interesting to also integrate Open Graph data to optimise the sharing of your articles on social media. This allows you to have control over the image, the title of the post that is displayed on the networks, as below: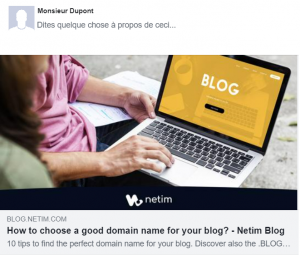 Put words or phrases in bold
Bold words improve reading and highlight certain information. Fast readers will find their answer quickly.
For this, use <strong> </strong> tags (rather used for semantics) to <b></b> (rather used for formatting) to help Google better understand your text and the important elements.
Fresh and updated content
The key to SEO is to have fresh and updated content, it must be regularly updated. The more often you publish (daily or weekly for example), the more frequent Google crawls will be.
Google crawling consists of the search engine analysing the pages and content of a website.
How to add a blog to a website?
There are several options available to you, three of which are listed below:
Opting for a sub-domain
The sub-domain of your site could be "blog.monsite.com" and your e-commerce site "www.monsite.com".
This solution allows you to give more weight to your domain and to do internal linking. You will be free to change the entire design and structure of your blog.

Folder
The folder is located at the end of your domain name and is delimited by a slash /. It can look like "www.monsite.com/blog" for example. This is a part of your site that will be dedicated to the blog. You could also work on your internal linking in this way, but the blog part will look like your e-commerce site: you will therefore have less freedom from a design and architecture point of view.
Register another domain name
This last solution is similar to "www.monsite.blog" for example. It is another domain name and therefore an external site. Here we have chosen the .BLOG extension for the examples but there are more than 1,100 other extensions! (.COMMUNITY, .NEWS, .CLUB, .INFO etc.)
As far as links are concerned, this time we will talk about backlinks (incoming links) and not internal links. If you're not sure about a domain name, check out our 10 key tips to launch your blog.
Of the solutions presented above, none is really better than another: they will all work! It is up to you to choose the most coherent one for your activity and the easiest to implement at your level.
So, do you want to open your own blog too?
You now know the advantages of blogging for your SEO and your community.