Domain names
How to choose a good domain name for your blog?
Discover our 10 key tips to launch your blog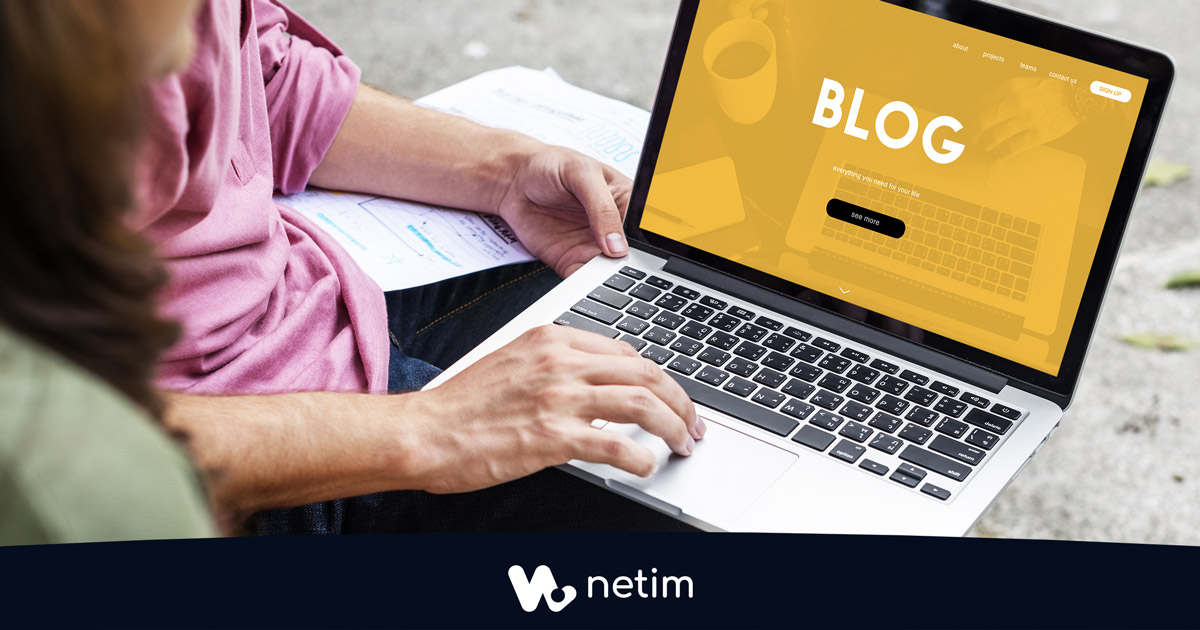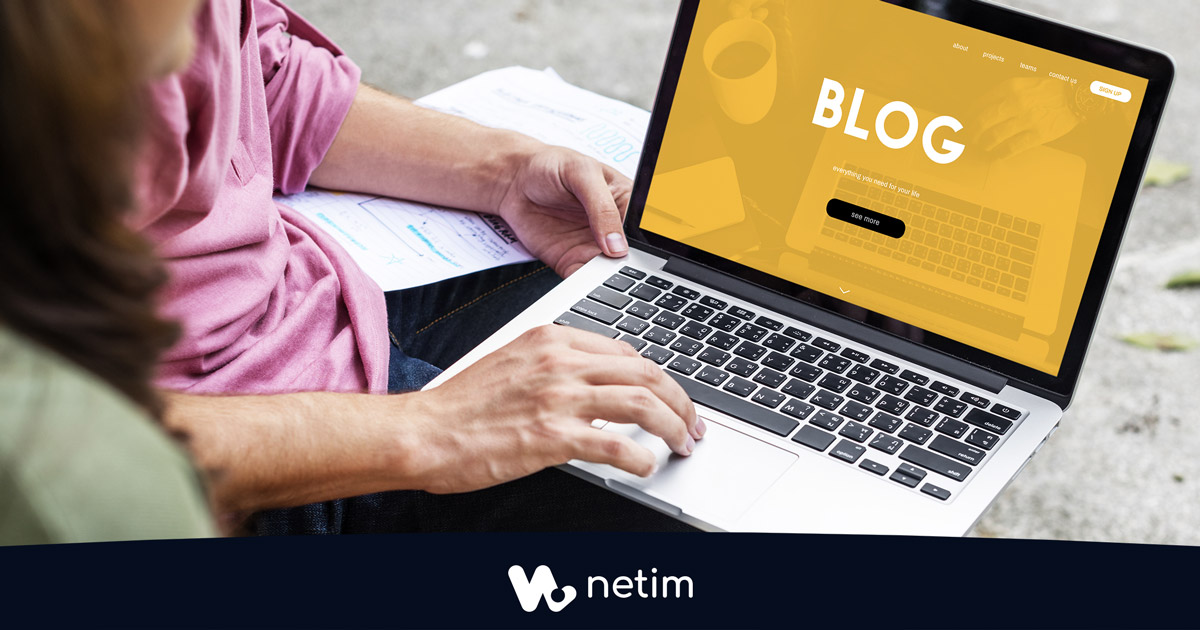 Congratulations! You are about to launch your blog and you are thinking about a domain name that is relevant to your target audience. Moreover, you want to be sure that the domain name you choose will be the most optimised possible in order to have a better referencing on the web. In this article, Netim reveals the 10 tips to follow to find THE domain name associated with your blog.
Spoiler alert : The .BLOG extension is on sale until 31st December 2022. Read on to find out more! 🤩
The importance of a domain name for your blog
Of course, as you can probably imagine, choosing a domain name is something to be taken very seriously. It is not a question of buying a domain name that "sounds good" or that makes sense only for you. The main goal in choosing your domain name is to be able to promote your activity through it, in this case you want to develop your blog and you will see later that certain factors must be taken into consideration…
So why is choosing an optimized domain name so important for your blog?
Well, for a number of reasons that are actually quite logical.
Firstly, your domain name will give your blog some visibility. If you take the time to think about a domain name that will have the most impact, by implementing a keyword strategy for example, you will be one step ahead of your competitors who may not have considered their own strategy. In this way, you can ensure that your blog will be better referenced on search engines and will be more consulted by your target audience.
Moreover, a domain name must first of all be thought of for your target and not for the referencing that you will have on the search engines, although this obviously remains a point that deserves some attention, it goes without saying…! If your visitors don't remember your domain name, how can they find you afterwards and talk about you to their friends and family? Indeed, it seems complicated!
Note: The following advice is not enough to make your blog successful! You need to think beforehand about a good editorial strategy, the content that will be published and the interest that you want to arouse in your visitors.
Which strategy for my blog's domain name?
In general, your domain name should reflect the credibility of the content you wish to share with your Internet users. Netim has prepared a few professional tips to help you move in the right direction…
1.      Use keywords
Search engines such as Google are generally fond of the keywords present in domain names and therefore use them to index your website. In this case, in order for your blog to be as well indexed as possible in the face of the searches of the Internet users you are targeting, putting keywords relating to the subject you are addressing on your blog will be a good strategy. For example, if you want to create a blog dedicated to the world of motor sports, you can opt to integrate keywords such as 'motor sport', 'rally', 'driver', 'race',…
Note: it is better to put one or two keywords in your domain name, not more, Google won't like that too much!
2.      Avoid numbers
Although incorporating numbers in domain names was very fashionable some twenty years ago, today it is not recommended to use this type of strategy. The reason for this is that it is possible to confuse the exact name of your domain name, in case of puns such as replacing the word 'to' with a 2, or even trying to be original in style by replacing 'o' with the number 0.
3.      Choose a clear and understandable domain name
In the best of all possible worlds, you want your future visitors to be able to find you easily on the web. You need to find a domain name that is straight to the point and as clear as possible, avoiding any spelling mistakes on their part.
To find out if your domain name will be understandable to everyone, you can talk about it around you and say it out loud to see how your friends or family react and how they have spelled it.
4.      Prefer short domain names!
Moreover, your domain name should be relatively short if you want your visitors to remember it more easily. A short domain name is recommended so that Internet users remember it, but also so that your blog's ranking on search engines (Google, Bing, Yahoo, etc.) is better.
Note: just because you can use up to 63 characters outside the extension, doesn't mean you should! 😊
5.      Avoid hyphens
The hyphen… also called the hyphen which corresponds to the 6 key on your keyboard (hence the hyphen of the 6 used by some 🙄), is not a strategy to adopt for your domain name. And in particular for two main reasons:
It can cause problems for Internet users when they type in your domain name on a search engine and distort memory;
It is also often synonymous with phishing (especially abroad): this necessarily sends a negative signal to Google, which will be suspicious of domain names containing hyphens.
6.      It should reflect your activity on your blog
Obviously, it makes sense that your domain name should match the activity you are promoting on your blog. If it had nothing to do with it, it would still be a bit weird… wouldn't it?
Good news: nowadays there are many extensions that allow you to specify your market or activity directly in your domain name!
7.      Choose an extension according to your target!
Two types of extensions exist to create your domain name for your blog, these are ccTLDs and gTLDs:
ccTLDs for country code top level domain include all extensions related to countries and geographical areas, such as .FR, .UK, .CH…
gTLDs for generic top level domain are all the generic extensions in existence today, the most widespread being .COM.
For your blog, it is in fact advisable to choose an extension related to your activity! Netim offers more than 1,000 generic and geographical extensions able to perfectly matching your project.
Did you know? You can also register your domain name with the .BLOG extension!
See the list of extensions available at Netim
At the end of the article, take advantage of our special offer on the .BLOG! 📰
8.      Beware of brand names
As you might expect, you cannot use the name of an existing trademark to build your domain name (unless you also have a legitimate right to it, such as your surname etc). Given the amount of trademarks around the world, it is up to you to make sure that your trademark is available for your blog's domain name. You can do this by searching the intellectual property of a specific term:
in your country, for example with the USPTO for United States (United States Patent and Trademark Office's)
on the European territory with the EUIPO (European Union Intellectual Property Office)
at the global level with the WIPO (World Intellectual Property Organization) allows to search all trademarks on an international scale
9.      In need of inspiration? Expand the field of possibilities
When starting a blog, choosing a domain name can be a tricky part of launching your project. If you are short of inspiration and ideas, many websites offer to generate variants of your basic idea for you, called "domain name generators".
Note: domain name generators have their limits! Many of these tools propose a concatenation of several words or terms… Beware of unpleasant surprises such as already existing trademarks or the meaning of the proposals becoming very different from what was originally intended.
10.      Opt for the special offer on the .BLOG extension!
Why choose the .BLOG?
By choosing this extension, you directly indicate to your target the type of content they will find when visiting your website, i.e. a blog!
Until 31st December 2022, the .BLOG extension is on special offer at Netim.
Save 77% on your registration for the first year and promote your blog! All you have to do is check the availability of your .BLOG domain name to take advantage of this special offer ✨