Our news
Netim will be present at NDDCamp Paris 2023!
Meet Netim at NDDCamp Paris on 7th September 2023! 🚀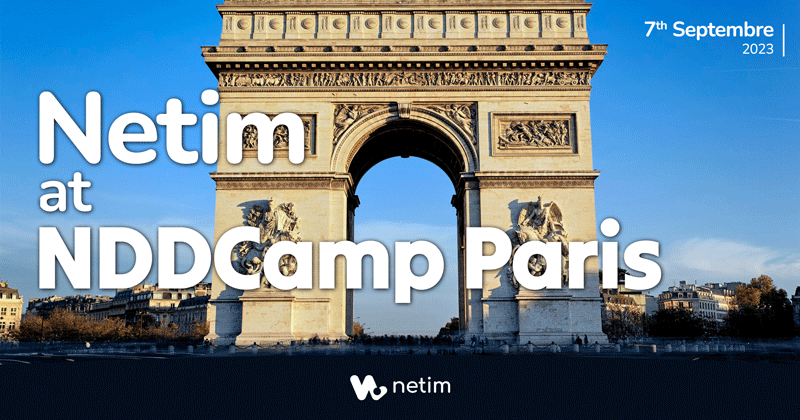 Once again this year, Netim is proud to be one of the sponsors of this event dedicated to domain names. Sébastien Almiron, our Chief Sales & Marketing Officer, will speak at various conferences.
On Thursday 7th September 2023 from 9am to 6pm, the seventh NDDCamp Paris will be held at the MBA ESG Paris. During the day, participants will have the opportunity to exchange views with professionals who share a common interest in the day-to-day use of domain names, namely :
SEO specialists and consultants
Registrars
Registries in charge of an extension (.fr, .alsace or .best for example)
Intellectual property consultants
Specialised lawyers
Domainers
Purchasing platform/reselling domain names on the secondary market
And more…
NDDCamp is an event where we talk about law, SEO, marketing, IT and domaining.
Programme for the day
NDDCamp is above all a forum for exchange and networking, punctuated by expert round tables on topical issues.
This year, we will be looking at the following themes (in French):
Intellectual property: key legal and technical developments in 2023
Cybersecurity, an issue of legal sovereignty and online confidence
Combating cybersquatting on the Web and Web3
The domain name at the heart of the digitalisation of businesses (with guest speaker Sébastien Almiron)
The secondary market for professional intangible assets
AI ChatGPT and AI tools: what impact on the domain name sector and the Web ecosystem? (with guest speaker Sébastien Almiron)
The afternoon will conclude with 1.5 hours of questions from the public and online participants, which will be answered by the experts on stage.
How do I sign up?
NDDCamp Paris is a totally free event, thanks to the sponsors!