Email
How to create a good newsletter?
Discover our tips and build your own strategy! 🚀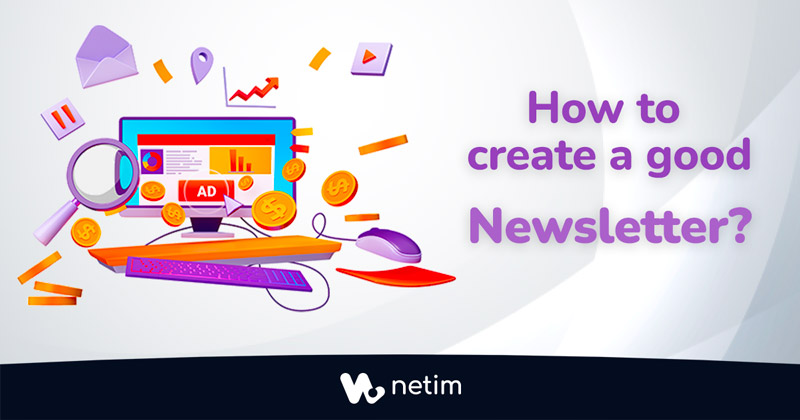 What is a newsletter?
A newsletter is a communication tool used by companies to distribute information to customers, subscribers and readers. It is sent by email to subscribers only.
A newsletter is sent to your readers for a very specific purpose! This could be to build loyalty, to provide information for your database, to publicise news about your company and/or your sector of activity, or to generate traffic for your website, blog, social media, etc.
Build loyalty
Do you want to keep in touch with your customers and build a relationship with them? The newsletter is the ideal communication tool for achieving this. By sending them regular emails, you show that you are present and attentive to their expectations.
The design and content of your newsletter will play an important role in attracting readers and making your communication attractive.
But that's not all: the newsletter can also be used to turn your prospects into customers!
Don't hesitate to share blog articles, tutorials, videos, podcasts, testimonials or even behind-the-scenes information about an event! Be creative to captivate your audience: valuable content will keep your customers interested over time.
Provide information
Newsletters can be used to inform customers or prospective customers about subjects of interest to them, and in particular about current or forthcoming commercial or promotional offers.
It's also a great way of introducing your company or even your blog, as well as presenting what's new on the market. In particular, you can talk about what's going on internally (media appearances, recruitment, etc.). Telling the story of your company to your readers will have a strong human value, which is often greatly appreciated by the public who read you!
Celebrate the key events of the year too, such as Mother's Day, Valentine's Day, Christmas… But be careful: don't communicate only on religious holidays, taking into account the beliefs of your target audience.
On the other hand, you can start in January with the New Year and the resolutions that go with it! 🎉
Promote your business
Increase your visibility and attract prospects by presenting your company and your products in your newsletter, and show that you're unique! As well as publicising your business, the newsletter can be an excellent way of establishing yourself as a specialist in your sector! 🚀
But how do you get your prospects to sign up for your newsletter?
You can, for example, offer from your social media a subscription to your newsletter, but also offer downloads of documents such as guides, white papers or any other support that adds value and demonstrates your knowledge of the sector!
Finally, if you have the necessary resources, organising webinars can also be an opportunity to capture your audience and generate subscriptions to your newsletter.
Generate traffic
Finally, the newsletter can also help to generate traffic to your website and boost your sales! In fact, by adding your website link to your newsletter, you have a good chance that your readers will visit your website, bringing you extra traffic and possibly leading to conversions!
Don't hesitate to add call-to-actions buttons to your newsletter, so that your readers can easily share the content of your communication. But you can also include other call-to-actions, to encourage your readers to create an account, register for an event, request an appointment/call, download a document, etc.
So to make sure your readers don't miss out, highlight your call-to-action buttons by placing them strategically. At the top of the email, for example, using action verbs such as "find out more" if it's an offer, and choose a colour that contrasts with the rest of your newsletter.
Don't forget to test your design on several messaging services!
That way you'll be able to see how quickly it can be delivered, because they don't use the same technologies.
Graphic identity
To be sure of winning over your readers, think about optimising the design of your newsletter using your own graphic identity!
The newsletter is a reflection of your brand image, so it's a good idea to use your logo and the same typography and colours as on your website for every communication medium.
You can also look at new newsletter trends for inspiration! For example, by using platforms such as Behance or Pinterest to get different ideas and then see what would work best for your business.
Remember to include alternative text for each image in your newsletter in case they don't display.
Finally, the positioning of your logo in your newsletter is important! So that your readers see it straight away when they open your email, place it at the top of the newsletter so that they can easily recognise the sender.
Finally, icons are often used in newsletters to make your communication more attractive!
The newsletter should be sent out regularly so that it is not perceived as invasive or, on the contrary, as too infrequent. If it is sent out too frequently, you risk losing subscribers and receiving complaints about spam.
You could start by sending it once a month, for example, and then observe the statistics on how emails are opened and adapt the times at which you send them.
As for the ideal time to send it, as with social media, there really isn't one… since it depends on your sector and the rhythm of your customers!
If you're interested in this subject too, don't hesitate to read our dedicated article with lots of tips on when to post on social media!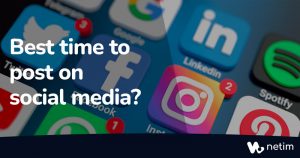 Marketing automation tools to help you
You can also automate your regular and repetitive tasks such as sending emails, SMS messages, etc. using marketing automation.
A variety of email automation tools are available to you. Here are a few examples:
Mailchimp
Brevo (formerly Sendinblue)
Mailjet
Mailgun
Sendgrid
These tools save you time and are capable of improving your targeting thanks to high-performance segmentation systems.
To segment your database as effectively as possible, you can create lists based on different criteria such as :
location
age
gender
frequency of purchase
interests
job
date of registration and first purchase
customer behaviour
For example, you can send reminder emails for abandoned shopping baskets or even communicate an offer to prospects who have not yet been converted into customers.
Segmentation will enable you to send your email campaigns to the right people. With more targeted and personalised messages, you should see an increase in your open and click rates!
Personalise the email
Stand out from the crowd by personalising your e-communication: using the first name of the customer or prospect will make it easier for you to keep in touch with them and make them feel close to you.
You should also think about personalising the subject line of the email to encourage customers to open it. This will improve the open rate!
The first lines are also important, as they are often displayed as a "preview of the email".
You can also personalise your content according to certain criteria (offers for loyal customers or for prospects to turn them into customers) and use language according to the age of the readers you are addressing.
You can also offer events based on the recipient's location, present similar or complementary products based on your customers' purchase history, or highlight products consulted but not purchased.
Email personalisation benefits both the reader and the company by improving the customer experience and strengthening the email campaign.
To analyse the effectiveness of your campaign, it is advisable to analyse various statistics from the newsletter in question. To achieve this, certain key performance indicators (KPIs) are used to evaluate the effectiveness of an action and/or measure the performance of a particular element of your communication.
There are several KPIs that can help you analyse the effectiveness of your campaign. See the calculations below ⬇️
The deliverability rate: This tells you how many recipients have received the email in their inbox. If this rate is relatively low, this indicates that your newsletter needs to be reworked because your recipients are not receiving it for various reasons, such as a poor email reputation, if your recipients have reported you as spam, or a poor image/text ratio, etc.
Deliverability rate = (number of newsletters delivered / number of emails sent) x 100
The open rate: This will tell you how many people have opened your email. This KPI gives you an idea of whether the subject of your newsletter is relevant and interesting to your recipients. Note, however, that if the email client does not display the images in your newsletter by default, then the result will be distorted, as the open rate will be counted as zero. These results should therefore be taken with a grain of salt…
Open rate = (number of emails opened / number of emails sent) x 100
Click-through rate: The click-through rate tells you how many recipients opened, read and clicked on one of the links in the email you sent.
Click-through rate = (number of clicks on an email link / number of emails sent) x 100
Reactivity rate: This compares the number of clicks with the number of emails opened. This rate is very important for measuring the effectiveness of your newsletter: in fact, it indicates all the clicks made by your readers and shows whether they were genuinely interested in reading your newsletter.
Reactivity rate = (number of clicks on an email link / number of times the email is opened) x 100
Unsubscribe rate: This measures the percentage of people who no longer wish to receive your newsletter. This should be as low as possible.
Unsubscribe rate = (number of unsubscribes / number of emails sent) x 100
By evaluating the effectiveness of a campaign, you can understand what your readers like to read and what they are looking for. You can then adapt your future newsletters on the basis of the results obtained.
How to avoid being treated as spam?
To avoid being treated as spam, you should avoid using certain words. Here are a few examples that should be avoided in the subject line of your newsletters: sale, promotion, special offer, limited offer, free trial, gift, coupon, refunded, buy, -50%…
We also recommend avoiding the use of currency symbols such as "€" or "$". Or you can integrate these words and symbols in image form to bypass spam blocking software, which is designed for text content.
Moreover, to avoid being treated as spam, the subject of your newsletter should be short. It is also strongly recommended that you use an email address linked to your domain name and always the same sender name to send your newsletters. You should also pay attention to the overall content of the newsletter and avoid inserting too many images (which are often blocked by default by email systems) or URLs. Ideally, a good ratio is around 40% images and 60% text per newsletter.
Also, the unsubscribe link must be highlighted so as not to be flagged as spam.
And don't forget that you need recipients' consent! So don't use purchased or rented contact databases without first obtaining their consent… ❌
GDPR: an element not to be ignored!
It is important to create an GDPR-compliant email campaign. To obtain the consent of recipients, contacts must tick a box authorising you to send newsletters. You must also tell them the purpose, the conditions and the possibility of unsubscribing.
Here are the rules to follow:
Be able to prove each person's consent by keeping details of their identity, the purpose of the consent and the corresponding dates on a database.
Enable contacts to unsubscribe easily, with an unsubscribe link for example.
Enforce your readers' rights to access their personal data, portability, deletion, rectification, etc.
Obtain consent from your contacts (opt-in or double opt-in)
And what are soft in and soft out?
Soft opt-in is a technique for obtaining a person's consent without any action on their part (a pre-ticked box, for example).
Soft opt-out is when the recipient has to click on a box to stop receiving the newsletter.
Soft opt-in and soft opt-out techniques are not recommended, as consent is not obtained fairly. On the other hand, the recommended technique for obtaining consent from contacts is double opt-in: the person must tick a box and then confirm their consent. It's important to note that these steps are prohibited. Failure to comply can result in penalties of up to 5 years' imprisonment and up to €20 million or 4% of worldwide turnover for the previous year… So you might as well do without! 😇
To conclude
Newsletters are a great way of gathering information about your customers! It's relatively quick and easy, thanks to specialist emailing platforms.
But you need to bear in mind that before you can achieve good results, you will need to go through a test phase! By the time you have found the content that your readers will like, the right segmentation of your database, etc., it's possible that several of your newsletters will "fall by the wayside" before you see good open rates, click-through rates, etc. But perseverance always pays off, so don't get discouraged and achieve your objectives by measuring your KPIs with each mailing!
And finally, don't forget the most important thing: the newsletter is the ideal opportunity to highlight your expertise! So don't wait any longer to show your contacts why you're number one in your sector! 🏆