Email
Craftsmen, think about professional emails for your activity!
Craftsmen & digital transformation, check out our solution to create your professional emails!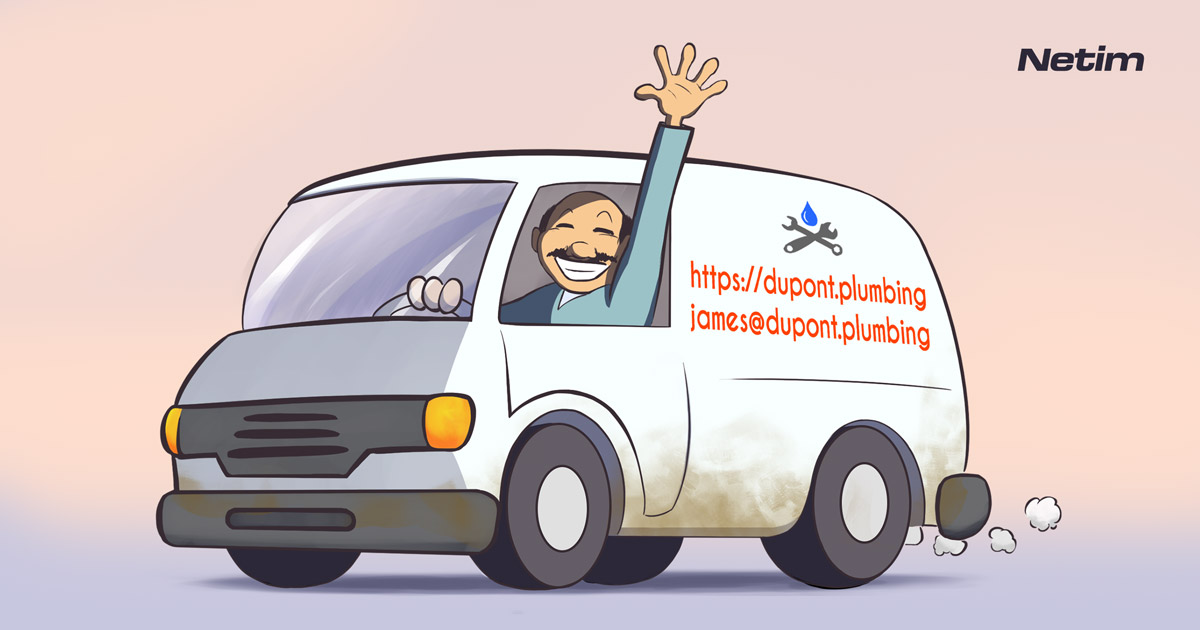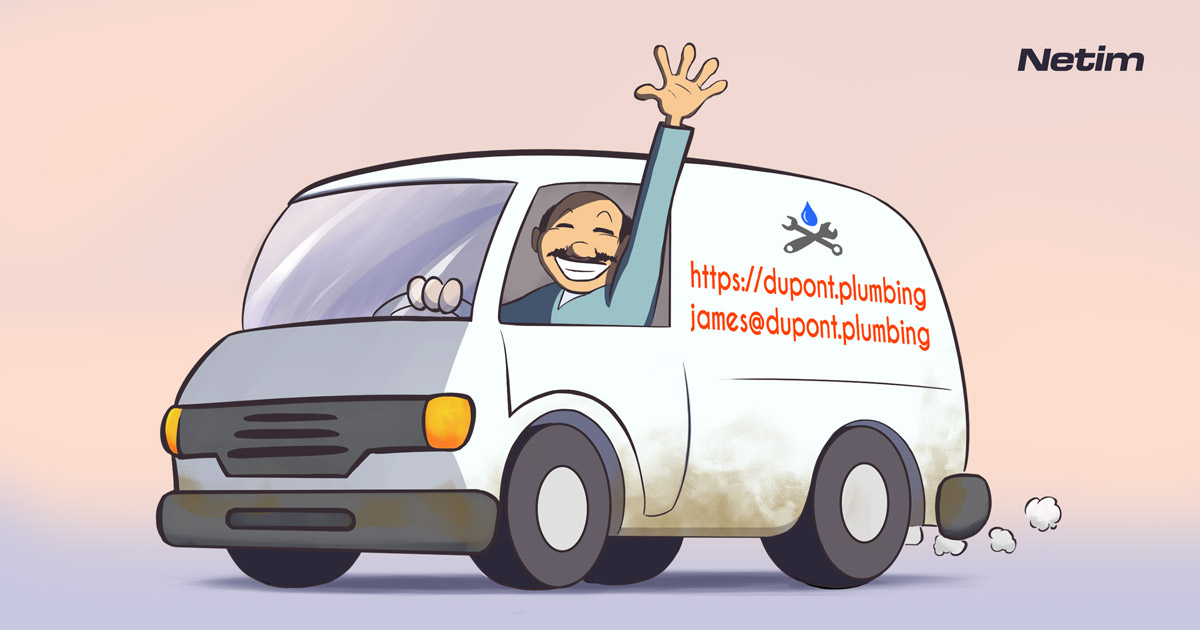 Digital presence is a proven necessity for companies. Today, the question is no longer whether to be present, but how?
Having this digital presence requires a number of skills that can be internalized or delegated, to specialized providers for example. What about the self-employed, especially craftspeople? They are sometimes the forgotten ones of the digital transformation.
To specific needs, we believe that adapted answers must be provided. This is why Netim has decided to interview a key player who is particularly aware of the issues involved in the digital transformation of craftspeople. Interview with Christophe FLERS, adviser and digital referent of the french network of chambers of trades and crafts.
After the COVID-19 episode, it's time to take stock of the situation for craft businesses.
"The subject is even more relevant since the health crisis we are experiencing: 9 out of 10 French people buy on the Internet while barely 3 out of 10 craftsmen sell their products or services online! (…) Very often the big chains are well ahead on these subjects! Which is why it is so important, if we want to keep our local craftsmen, to support them in this transformation, so that they can take advantage of these modern tools". Christophe FLERS 
Assert your professionalism and gain visibility thanks to your professional emails
Changing consumer habits
It is a fact that we consumers are used to companies' digital presence. These consumer habits are such that they become an essential prerequisite for good business health.
What would be your first reflex if a water leak appeared in your home and you were looking for a plumber to repair it? If you think "Google a plumber near me" you are in the majority.
"It's not so much the craft industry that has changed: it's mostly consumer habits. There's a big gap between the consumption patterns and the appropriation of those patterns by craft businesses." Christophe FLERS
Establish your digital presence
To assert your digital presence, you need to use several channels: website, search engine referencing but also email addresses. Is your email address in Yahoo, Gmail, or Wanadoo? Wanadoo has been closed since 2006 … Consider the image you are reflecting on your company!
Moreover, these free webmails are often associated with private use. In comparison, thanks to a personalized address you will appear as a perennial, well-established company.
So why should you do without one? Especially since it is possible to register professional emails while purchasing your domain name!
Be visible and identifiable!
Make no mistake, any visibility is good to take. Business cards, commercial vehicles, etc. Here are as many places where your company's name can appear!
But it's not just about increasing visibility. The goal is also to be identifiable when you approach, contact your suppliers, etc,. Thanks to a personalized email address, you no longer need to remember who Mr. Smith is or to look up the email signature to find out which company he belongs to. The email recipient has the information as soon as he receives it.
Improving your brand image and visibility are two good reasons to acquire your business emails. However, they are not the only ones. If the business is crucial, your company's security is just as important…
The dangers of free email addresses for professional use
Protect your brand identity
If you need to remember a tip: anticipate your needs and register everything from the start (domain name, email addresses, etc.). This will save you from having to revise your communication and media (business cards, brochures). These steps are often tedious and expensive.
But by doing these steps from the start, your emails will be secure for as long as your domain is renewed.
Data protection of your professional emails
In addition to protecting your brand identity, you also protect your data. You may not realize it, but most free email addresses "scan" all of your data.
Whether it's to make your life easier, to locate you, or to plan potential purchases and send you targeted advertising, your data is far from private.
These practices are completely legal and you consent to them by using these services. A major risk-taking especially for professional use.
Take a look at our solution to create your professional emails!
The obstacles to the digital transformation of craft businesses
At Netim, we are aware of the obstacles that some craftspeople may encounter when transforming their business digitally. We like to think that digital tools should not only serve large companies but also support a wide range of players.
"They (the craftsmen) are not aware that these tools, which are often inexpensive or even free for some, are not exclusively intended for large companies and are sometimes technically very accessible." Christophe FLERS
Our aim is to meet the needs of craft businesses as closely as possible. This is why we asked Mr FLERS to explain us the most important thing that craftsmen are missing during their digital transformation.
"There are, in my opinion, three major obstacles to the digital transformation of craft businesses:

1. The lack of digital culture: often craftsmen are simply lost when confronted with these "new technologies", especially as the changes are happening very quickly.
2. Lack of time: Craftsmen spend a lot of time doing their craft work, not to mention the ancillary tasks of any business manager: estimates, accounting, etc.,
3. Finally, the lack of money. If, in the very short term, digital technology can be beneficial (time saving, new customers, etc.,) you must first invest time and money in it." Christophe FLERS
Our dedicated solution to create your professional emails
Once these obstacles were identified, we set up a transversal offer allowing to jointly manage websites, emails, hosting, etc…
In order to create your professional emails, the first step is to register your domain name with a Registrar (such as Netim for example).
Once this step has been completed, think about the different emails you may need: sales@mycompany.com; contact@mycompany.com; myname@mycompany.com etc.
Then choose the optimal hosting package that best suits your needs. To have more information, read our dedicated article on the specific features of our hosting offers.
And there you have it!
Get your professional emails today!
The final word
Like it or not, the digital transformation is underway. Consumption habits are changing rapidly and for many players, it's time to get on that train! After standardization, e-commerce is developing more and more. Nevertheless, according to Christophe FLERS, craftsmen have "a bright future ahead by remaining themselves and differentiating their work from industrial products".
"Since the advent of mass distribution, long before the arrival of e-commerce, craftsmen have already faced this challenge, keeping their soul and differentiating themselves by their proximity, their quality of work and service. This artisan soul, they can continue to feed and develop it on the Internet, in their communications on social networks, on their websites, etc.,". Christophe FLERS
Surely, taking the plunge is not easy. But rest assured, many tools exist to make your life easier. Indeed, even if professional emails are a good start, why not take advantage of them to create your website? Check out our top 5 tools to help you create your website!