Domain names
From June 1st to 15th, the .com is on sale with Netim !
Enjoy this offer to register your .com domain!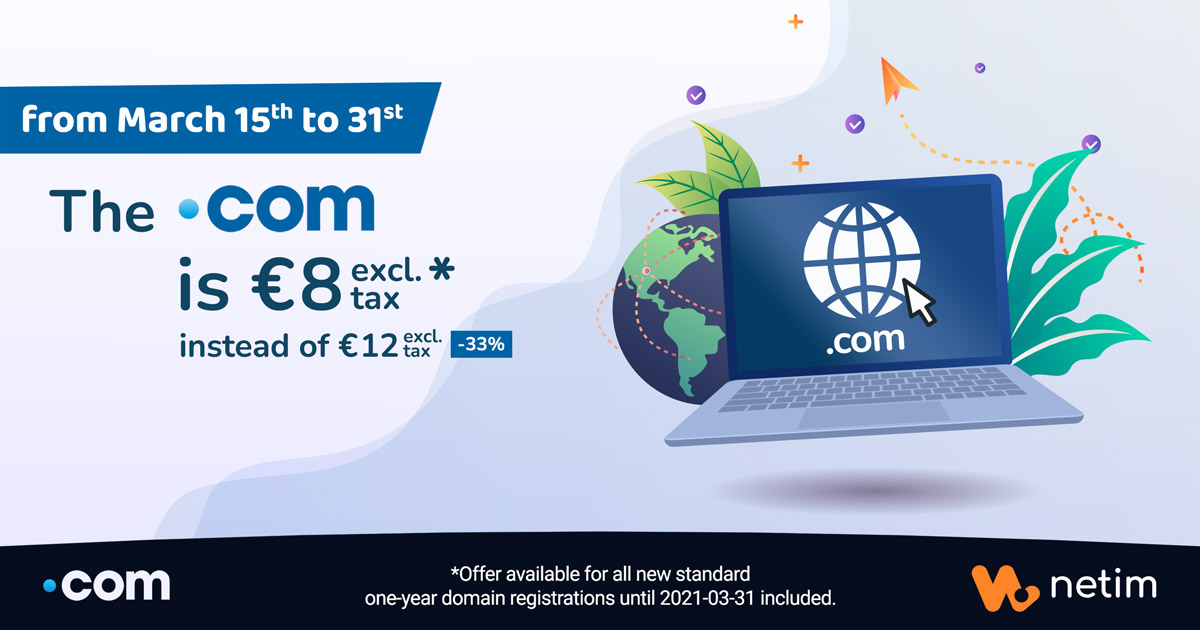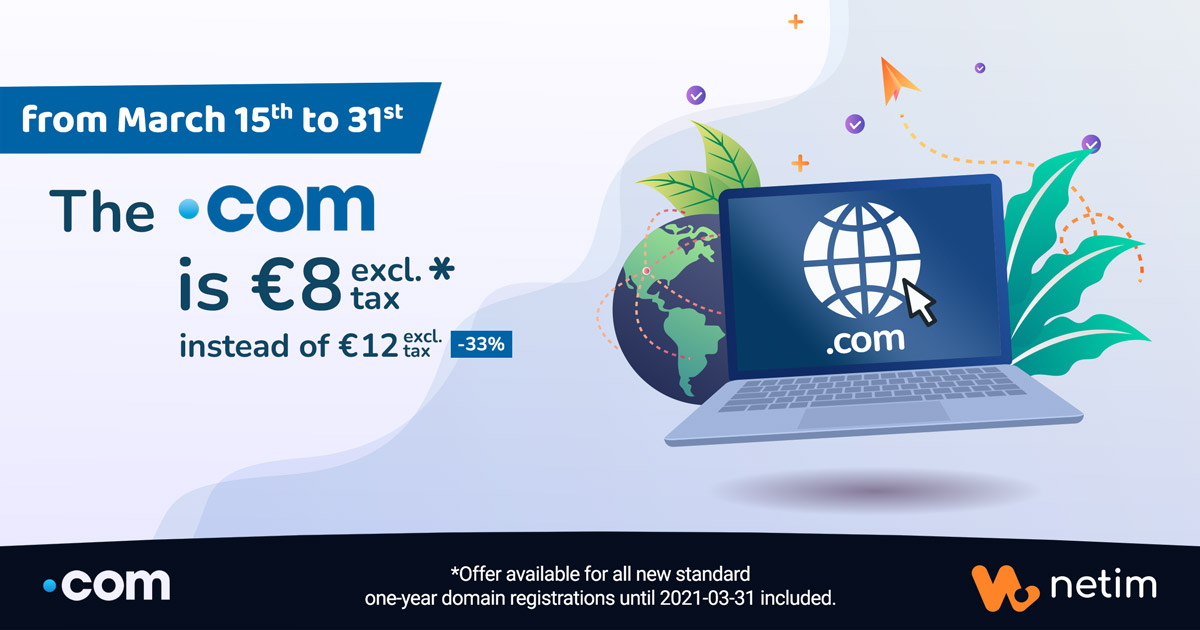 Needless to say, .com is the most popular top-level extension. It was created in the mid-1980s by the US government for commercial entities only. Today, this extension is used by the Verisign registry without any restriction for registration.
From June 1st to 15th 2021, Netim launches a discount on .com domain registrations! Check out the terms of this offer, and the history of the world's most popular extension ?.
A bit of history!
Origin of the .com
The .com is one of the first extensions along with .edu .gov .net .org .mil and .arpa. Initially limited to commercial entities only, this restriction was quickly set aside. Today, there are no restrictions on the registration of this extension. Meanwhile, the .net and .org extensions were quickly opened to all.
Originally, the management and administration of .com domains were operated by the United States Department of Defense. However, in the mid-1990s, seeing that this extension had no connection with national defense, management was entrusted to the National Science Foundation.
Several changes were made between the 1990s and 2000 before Verisign took over the Network Solutions Registry. Almost 21 years later, it is still the same company that manages and administers the world's most popular extension. Indeed, between the end of the 1990s and 2000, the .com extension soon became the standard extension for websites. During the " internet boom ", companies making money online were referred to as "dot-coms". A name that will only reinforce the hegemony of this extension over the others.
What about today?
You will certainly have noticed that the extension market has evolved considerably. All the new gTLDs compete with the iconic extensions by offering, among other things, greater availability for domain registration. Despite everything, the .com remains the most popular regarding the number of registrations. A report published quarterly on the domain name industry shows year after year the dominance of this extension over other gTLDs and ccTLDs.
The reason for this success certainly lies in the international aspect of this extension. Indeed, this extension is not considered as a country extension (ccTLD) but as a generic extension (gTLD). Thus, it is very accessible for registration while remaining general enough to correspond to a large panel of Internet users.
Did you know ?
The .com includes 152 million domains
The .com covers 42% of registered domain names
From June 1st to 15th 2021, register your .com for €8 instead of €12!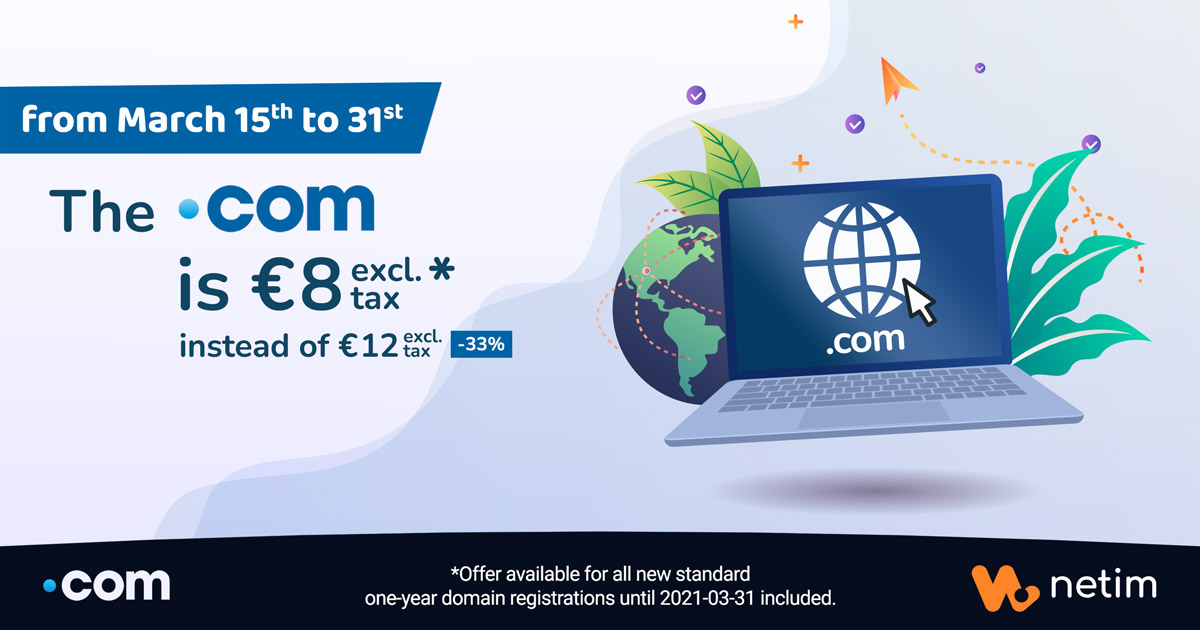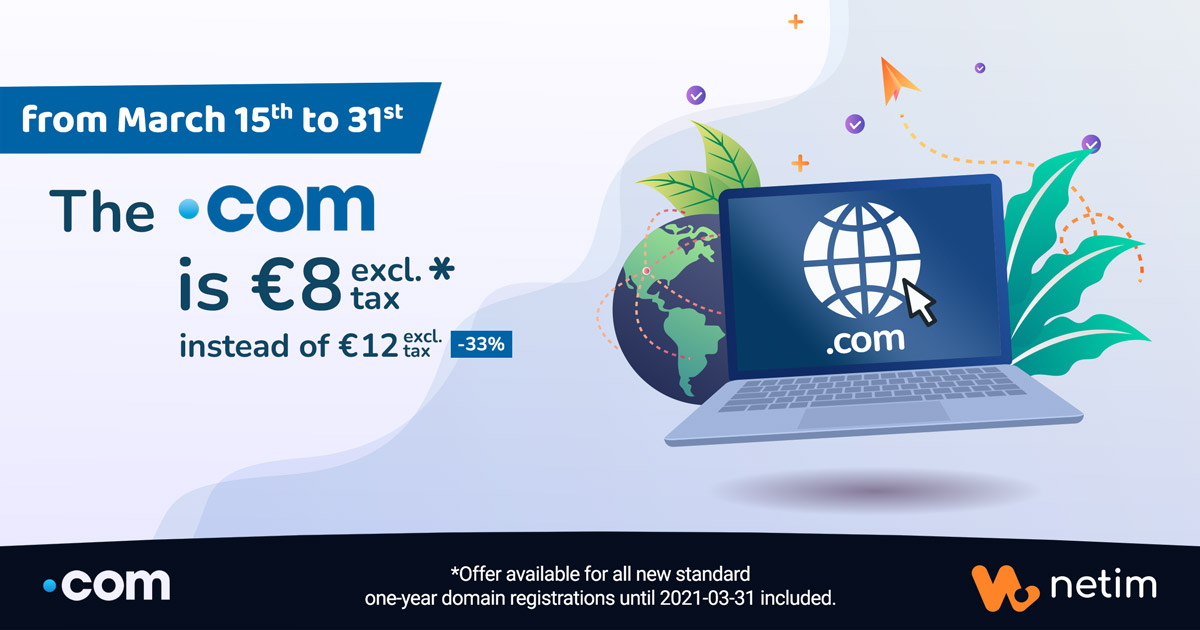 Currently available to order
Conditions: open to all
Price : €8 excl. tax / year instead of €12 excl. tax / year
Register your .COM domain today!