Domain names
Now's the time to transfer your .FR domain names for less!
Until 31st August, .FR domain name transfers are on special offer! 😍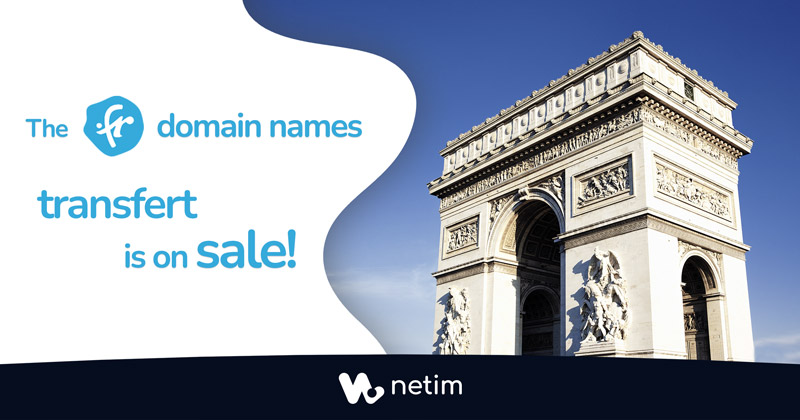 Why choose .FR for your domain name?
The .FR extension is the official top level domain of France. Founded in 1997, Afnic (Association Française pour le Nommage Internet en Coopération) has since been the registry in charge of this TLD, and now has more than 4 million .FR domain names.
As you can probably imagine, choosing the .FR extension for your domain name means choosing an extension dedicated to France, the country of gastronomy and fashion… More specifically, the .FR extension will indicate to search engines that your site is aimed at the French market. This can be a considerable advantage, depending on your company's target and strategy!
Furthermore, according to Afnic, 88% of French people would be "reassured" to visit sites with a .FR extension, as they perceive the extension as a guarantee of trust and proximity. Here are all the great reasons to register a .FR domain name, don't you think? 😉
Transfer my domain names to Netim
To transfer an existing domain name from your current Registrar to Netim, simply follow the steps below:
Remove the transfer protection on your domain (Registrar Lock) at your current Registrar
Obtain the transfer authorisation code from your current Registrar
Once the request has been made, the operation will be carried out within 5 days.
Transfer your .FR domain name and take advantage of our special offer!
It's happening right now!
Until 31st August 2023, the transfer of your .FR domain names is on special offer at €5 excl. VAT instead of €6.65 excl. VAT 😇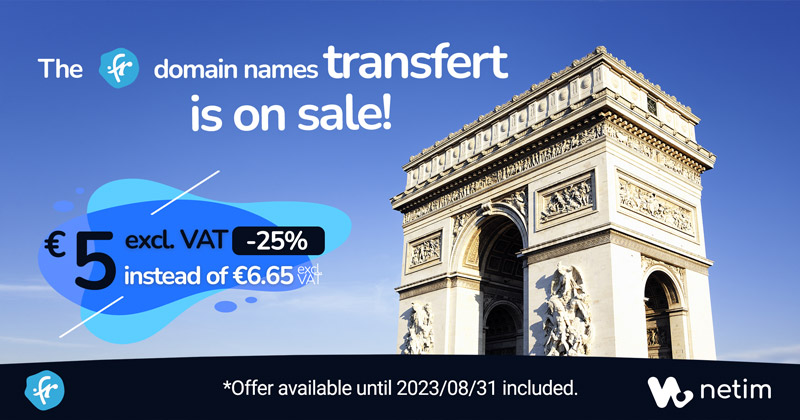 🚀 Transfer my .FR domain name now! 🚀
Transfer my email addresses to Netim
Would you also like to transfer your email addresses to Netim? Then you've come to the right place! Read our dedicated article to find out more about how to do this easily 😊