Domain names
.GA: reopening of the ccTLD for Gabon
It will now be possible to register .GA domain names again! 🎉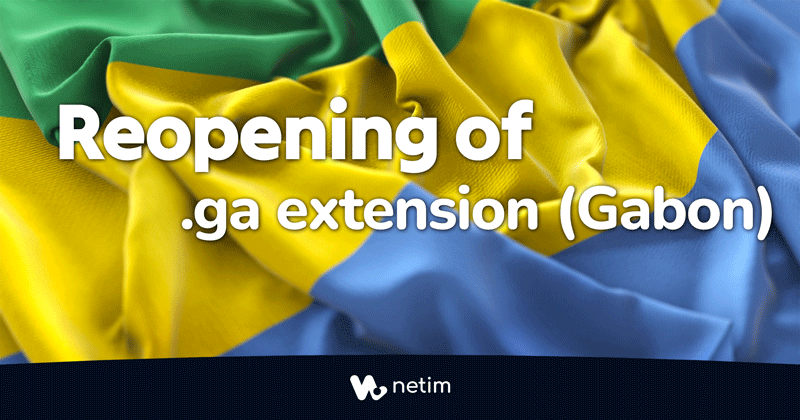 Why .GA extension has been closed?
Since January, it has been impossible to register or transfer a .GA domain name, Gabon's official extension, due to technical problems at the technical operator Freenom (which also manages .CF (Central African Republic), .GQ (Equatorial Guinea), .ML (Mali) and .TK (Tokelau)).
The registry in charge of .GA extension, ANINF (Agence Nationale des Infrastructures Numériques et des Fréquences) has finally been able to recover the management of its national extension after 10 years of operation. An official press release from the ANINF is available for more information about the technical migration for the management of the .GA extension.
Reopening of .GA: what you need to know
Thanks to this reopening, it is now possible to register and transfer your .GA domain names from June 6th! 🎉
However, for various reasons, the registry decided to start afresh on a clean basis, involving the deletion of several hundred thousand domain names. Fortunately, Netim managed to ensure that its customers' domain names were maintained so that they could be reinserted into their new base.
But this requires a new registration for the registry. The new registration date for repatriated domains is June 6th (migration date) and they will all expire on June 6th, 2024.
Rates applicable since June 6th
From now on, here are the prices effective since June 6th for the .GA domain names:
Registration: €26 excl. VAT/ year
Renewal: €26 excl. VAT/ year
Transfer: €17 excl. VAT
Register a .GA domain name with Netim
Would you also like to register your .GA domain name? Netim is one of the few accredited registrars that allows you to do so! Furthermore, there is currently a special offer for registering a .GA domain… 🤩
🎉 Get closer to Gabon and register your domain name! 🎉